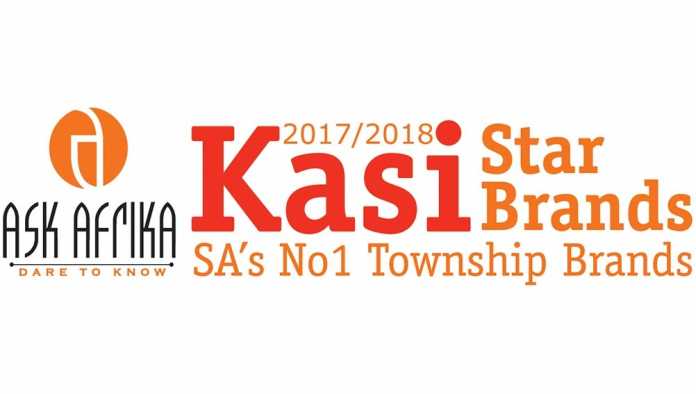 South Africa's leading market research company, Ask Afrika, has announced the official date for this year's Kasi Star Brands Awards – the company's annual benchmark tool used to examine brand loyalty and preferences among South Africa's township dwellers.
This year's results announcement will take place on the 21st of June and will highlight those truly Kasi brands that are driving consumer uptake in South Africa's township markets, the reasons why they are leading the way and key insights into exactly what they are getting right in this unique, opportune consumer space.
Looking at product usage across 145 categories and ranking 720 brands, only 32 Ask Afrika Kasi Star Brands and 41 potential Kasi Star Brands will emerge as the "brands of choice" among Kasi consumers in 2018 – the question is, who will these be?
"The World Bank estimates* that half of South Africa's urban population lives in townships and informal settlements, and to say that the Kasi consumer is 'unique' would be an understatement. At their core, these consumers are vibrant and diverse, in large, due to their cultural and religious backgrounds which play a fundamental role in shaping their purchasing decisions and brand perceptions", says Sarina de Beer, Director Client experience at Ask Afrika.
"Once marketers and executives have a holistic view of the Kasi consumer, to understand their brand affiliation and temperament towards one brand or another, they can use this as the basis to inform their strategy into this market – which can be a defining factor and key differentiator".
Methodology
The main aim of the survey is to focus on the loyal behaviour of the regular township resident and excludes the more affluent consumers that make townships their homes. The regular Kasi consumer in this study refers to a consumer that:
Lives in a South African township;
Falls within a socio-economic level of between 3-5.
As part of this year's research, 7 676 South African township consumers – representing 11 258 000 consumers, voted for brands whom they believe define a common experience, and ones they are committed to.
Top trends to be revealed
De Beer adds; "As with previous years, the 2018 research, really delved in on Kasi consumer behaviours to gain a greater understanding of this powerful consumer segment. A standout, which will be revealed in greater detail on the 21st of June, is that loyalty levels are on the decline, and therefore, brands wanting to cement themselves as "winning brands" in the minds and hearts of consumers will have to become smarter in how they build trust – Kasi Star Brands research enables this".
The Kasi Star Brands survey enables insight into unique profiles of Kasi living across all nine provinces and 34 townships across South Africa. Furthermore, the attitudes towards brand loyalty and how it differs across categories and brands can also be explored in more detail.  Not only can the research results assist marketers to understand the loyalty drivers pertinent to a specific category enabling them to customise brand messaging accordingly, but it can enhance a brand's ability to grow in the township market by respecting the differentiating township demographic, shopping, buying, media consumption, digital and mobile trends.
"There is no doubt that executives and marketers today have a number of aspects to consider when trying to bring their brand to 'life' within specific target audiences – given dynamic market conditions, external environmental and social influences. As such, at Ask Afrika we look forward to announcing these top line Kasi consumer trends annually and, more importantly, the brands that make them 'tick' – equipping South Africa's brands and executives with key insights that will empower them to create brands that resonate with this key audience, increase opportunity and deliver on consumer expectations."
All winners will be announced at the exclusive launch event on the 21st of June 2018.
To find out more or to order Ask Afrika Kasi Star Brands research reports, contact:
Maria Petousis
+27 12 428 7400 / +27 83 260 4903
Jean Moolman
+27 12 428 7400 / +27 71 356 0829
References:
* http://www.worldbank.org/en/country/southafrica/publication/the-economics-of-south-african-townships-special-focus-on-diepsloot