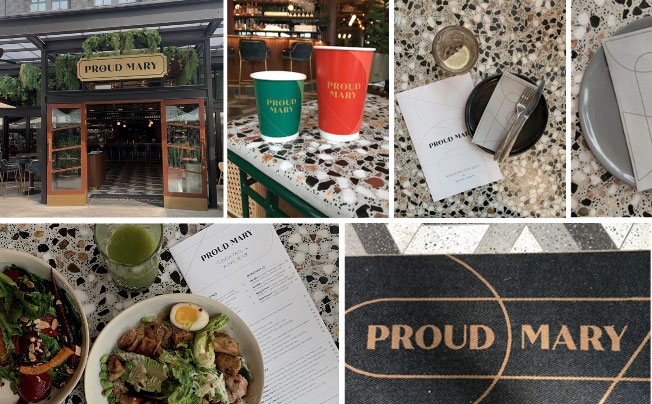 Proud Mary has already made significant inroads as a restaurant that delivers so much more than meets the eye. The challenge was to create a brand that blended the sophistication of mid-century restaurant design with the freshness, innovation, and fusion of modern-day eateries, a place that brings the past and the future together in one seamless experience.
Liquorish Ink was entrusted with the development of this unique brand proposition and Corporate Identity, a truly exciting proposition for the agency. Proud Mary opened its doors in Rosebank in March and has already become a very welcome and well-loved addition to the Joburg food scene.
After considering the landscape in South Africa and internationally, they drew inspiration from the fact that in every city there is a place that when you stumble upon it, feels like you've known it your whole life. The comfort of familiarity mixed with just the right amount of nostalgic old school charm and modern-day fresh sophistication.  A place that transcends as the hours go by. By day the hustle and bustle of the neighbourhood emanate all around you, by night the illumination of fun and laughter filling the room. That is exactly what this brand delivers. A place, where friends become family, where business feels like a pleasure, and every experience is remembered.
The graphic design team comprising of Leanie Nortje and Ilze van der Merwe translated this concept into a mid-century modern Corporate identity and visual style that has seamlessly pulled the whole environment together. From the logo to the menus, packaging, and uniforms every aspect of the brand has been carefully considered.  As part of the experience, there is also a coffee bar and a seafood raw bar all adding to the old school charm of an era gone by.
The restaurant industry is one of the trickiest to navigate at the moment, Covid-19 has fundamentally changed people's expectations and behaviour and delivering this type of proposition now was no simple task.
"Working with such an experienced and talented team of restaurateurs and interior designers during lockdown to create a brand that delivers this proposition has been a privilege for us and watching such an amazing team bring it to life, has been even better," says Leigh-Anne Acquisto, Founder and Managing Director of Liquorish Ink. 
The results speak for themselves, if you haven't ventured down to the corner of Tyrwhitt and Cradoc in Rosebank, you are missing one of the best dining experiences in Johannesburg right now.