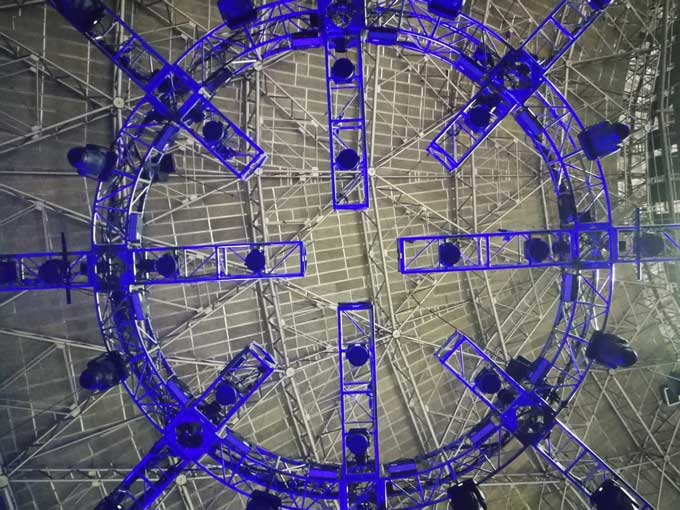 The exceedingly popular show stopper Black Box returns to Mediatech and if you were in awe of what the team pulled off in 2017 – you'll be spellbound this year. That's the opinion of Mediatech Africa show director Simon Robinson who adds, "It's hard to improve on perfection but Creative Works and the team who has laboured on the project have exceeded all expectations, adding new elements and twists to the vibrant automated light and audio visual experience – which this year will break the constraints of the box."
A show designed by the most creative minds in the industry – showcasing the most ground breaking technology available – in the most inspired and inventive way. That's Black Box 360. A synthesis of high energy music, powerful lighting, pixel mapping and more – all packaged into one hour sessions that are enhanced with knowledge-rich presentations that unpack and reveal the skill that went into making the technology sing.
Joshua Cutts and Christopher Bolton of Collective Works are the masterminds responsible for the show in its entirety – from concept to design, music and partnership appointments.  Bolton says that the best way to describe this Mediatech event is an AV education centre. "We have designed something distinctive that's captivating and really quite special. For people who don't get to experience the wow factor of big shows – Black Box 360 will give you a taste of what it's like to be immersed in an enthralling performance – put on by leading professionals in our industry."
Adding to this he says, "But it's more than just a show spectacular. It's a learning experience that details what went into creating the seamless synchronicity and pinpoint accuracy of the show, the tech and design elements and how to create decent workflows in design."
The informative presentations will include a rich mix of content and case studies. One that stands out in the line-up is "Eurovision 2019" which will be delivered by Bolton and Cutts.  
The Eurovision Song Contest (ESC) is considered to be one of the most spectacular and captivating television events in the world – and it's renowned for delivering a spectacular feast for the senses by consistently pushing the boundaries of what's possible from a staging and production perspective.  There are few lighting professionals who don't have ESC on their gig bucket list. An army of lighting technicians are needed to manage the magnitude of this production and the complexity of the lighting rigs and Bolton and Cutts –two of South Africa's most eminent lighting designers – were among those drafted.
Bolton and Cutts worked with an enormous team of technicians to oversee guest performances, as well as delegate rehearsals and the live shows with this year's theme "Dare to Dream" in mind. They will share their story of ESC and walk Black Box audiences through this year's spectacular show – which in the final rounds was in front of a live audience of 7,500 people, while the live broadcast was watched by approximately 200 million fans worldwide.
A collaborative effort – this year the core team has been expanded to include more industry professionals in the development of the show; a decision taken by Creative Works to ensure that Black Box is a tradition that lives on at Mediatech. The structure of each hour-long experience has been changed and will now be broken into two performances – each followed by a presentation. Other big hitters responsible for the line-up, include: Bad Weather [Andrew Bosman and Jonathan Bandli]; Sound GP [Christo Hattingh] and Multi-Media [Adriaan van der Walt], the Gearhouse Group [Nickolas Chapman – Showcom, Johann Moolman, Stuart Andrews, Robert Grobler] and a Cape Town band – Emerger.
"With a mix of backtracks and performances by Emerger – who play all original South African songs – when it comes to the music there's something for everyone," says Bolton.
In preparation for Black Box 360, well over 2 000 man hours went into controlling in excess of 8 900 different parameters and 16 odd universes.  As the technical sponsor – Gearhouse spent four full days managing the complexities of the Black Box build and supplied 3kms of tech cabling, a huge amount of LED video panels, around 150 static LED lights and 200 moving lights. Over a ton of rigging was used with a total of 30 motorised rigging points necessary to get the trussing design up and within spec. Multiple rigging bridles had to be used to ensure a safe weight distribution throughout the roofing system of the venue. Gearhouse experts – Reinier Robertson, Johann Moolman and Tanya Brown worked closely with Robert Grobler to ensure all weight and design parameters where taken into account when working out bridle lengths, positioning on the stand and point weights to ensure a safe methodology to the installation.
All the tech used during the show will be on display afterwards for the industry to review, including by way of example: Green Hippotizer media servers; MA lighting consoles; L-Acoustics Kara / KS28; as well as VPUs for Pixel Mapping.
"While just as awe-inspiring – it's radically different to Black Box 2017 and we invite everyone to come and experience it and to take up the opportunity to engage with the presenters and the technology," says Bolton.
In conclusion – Robinson says, "Prepare to be amazed. Black Box 360 is more than just education and entertainment. It's an experience that will leave you invigorated and inspired by the possibility of opportunity and a fast forward glimpse into the arrival of the future. This show demonstrates, yet again, the magnitude of South Africa's talent in this industry. Some of the country's best lighting and show designers have contributed to the show's development and we are incredibly proud to showcase this event. Spots must be reserved for these showings which are without doubt a new form of engagement and immersion."
Don't miss all the new creative being showcased at Mediatech 2019 – an amalgamation of skill, technology and creativity all under one roof – on the hour every hour. Download the show app to schedule all your show experiences. It's free and available on Apple or Android devices, so download today and start tailoring your show experience. Search: Mediatech Expo Africa in your App Store.
---
Mediatech Africa is an engaging biennial trade show that brings creative thought to life within six verticals: Broadcast – TV & Radio; Film & Video Production; Digital Media; Pro Audio – Lighting – Staging; Audio Visual Integration; and Studio – Recording – DJ. An unmatched platform for networking, education and entertainment, this high energy – high impact event is all about the seamless integration of technology and creativity. It's about making the impossible possible. It's about innovation and bringing ideas to life using the latest tech. The three day event attracts global and local brands who are at the forefront of their industries. Thought leaders, decision makers and the highest calibre influencers who are shaping tech trends and the very industry itself – attend the showcase. By design, Mediatech Africa is an experience which visitors immerse themselves in, leaving invigorated and inspired by the possibility of opportunity and a fast forward glimpse into the future.  Visit Mediatech Africa on www.mediatech.co.za
Mediatech Africa is co-owned by Sun Circle Publishers and Reed Exhibitions South Africa.
#imagination #innovation #techtrends