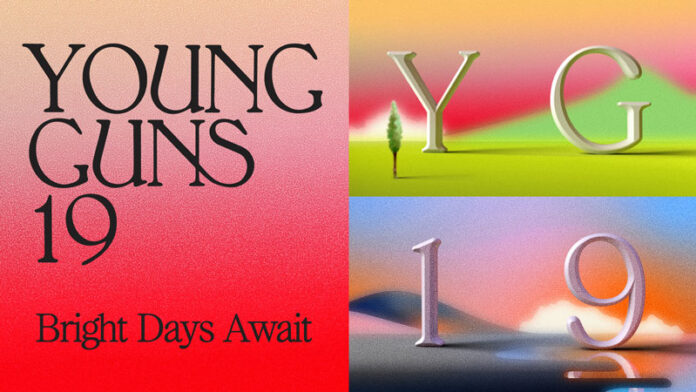 Jury includes "Top Gun: Maverick" director Joseph Kosinski
and director and artist Floria Sigismondi.
The One Club for Creativity, the world's foremost non-profit organization recognizing creative excellence in advertising and design, announced the diverse jury of 88 top creatives from 38 countries for the global Young Guns 19, celebrating creative professionals age 30 or younger.
Young Guns is the industry's only global, cross-disciplinary, portfolio-based awards competition that identifies and celebrates today's vanguard of young creatives.  The program is open to creatives age 30 and under who have been working for at least two years, full-time or freelance, and regularly attracts entries from upwards of 45 countries.
This year's jury includes some accomplished figures in the world of film and video such as Los Angeles-based director Joseph Kosinski, whose feature films include "Tron: Legacy", "Oblivion", "Only the Brave" and the upcoming "Top Gun: Maverick".
Also on the Young Guns 19 jury is Floria Sigismondi, the Los Angeles-based filmmaker and artist known for writing and directing the feature film "The Runaways", shooting episodes of "The Handmaid's Tale" and "American Gods", and directing music videos for the likes of Justin Timberlake, Rhianna, David Bowie, Sigur Ros, Björk, Katy Perry, The White Stripes and others.
A sampling of this year's 88 diverse Young Guns 19 jury members, many of whom are past YG winners, also includes:
Tarek Awad, Creative Director, Los Angeles Clippers Los Angeles
Dany Azzi, Executive Creative Director, FP7/McCann Riyadh 
Kervin Brisseaux, Design Director, Artist, Vault49 New York
Yong Choe, Vice President, Innovation and Digital Design, Ralph Lauren New York (YG7) 
Pavithra Dikshit, Design Director, Landor&Fitch Mumbai
Brian Gartside, Group Design Director, 360i New York (YG12) 
Arancha González Bernardo, Principal, Odami Toronto
Sallyann Houghton, Unreal Engine Business Development, Media & Entertainment/Fashion Industry, Epic Games London 
Sinmisola Hughes-Obisesan, Executive Creative Director, Publicis Nigeria (Leo Burnett Lagos / Insight Publicis) Lagos
Tina Ibañez, Creative Director, Art Director, Epic Records/Sony Music Entertainment New York 
Victoria Jenkins, Adaptive Designer, Disability Advocate, Unhidden Clothing London
Michelle Layne Lawson, AVP, Head of Design, Next Gen Experience Group, NBA New York
Lebassis, Art Director & Lettering Artist, Rio de Janeiro
Ting Ting Lee, Divisional VP Creative, Saks Off 5th New York (YG3)  
Albert Lin, Founder, MQ Design Shanghai, Creative Director, Traffic Shanghai and New York (YG1)
Stephanie Mei-Ling, Photographer, Brooklyn
Yuri Mussoly, Head of Creative Lab, TikTok Brazil São Paulo
Wacera Njagi, Photo Editor, Everyday Africa Nairobi
Fenn O'Meally, Director, London (YG18)
Riki Salam, Creative Director, We Are 27 Creative Brisbane
ShawnaX, Visual Artist, New York
Jabulani Sigege, Executive Creative Director, Wunderman Thompson South Africa Johannesburg
Alva Skog, Illustrator, Stockholm (YG17)
Angie Tijam-Tohid, Creative Director, Head of Content, Ace Saatchi & Saatchi Makati City 
Ghada Wali, Founder, Creative Director, Wali's Studio Cairo
Sherman Winfield, Executive Creative Director, VMLY&R Atlanta 
Masaru Yokoi, Creative Director, Art Director, TV Asahi Tokyo (YG4)
 The complete list of Young Guns 19 judges can be viewed here.
The online entry system is open, with the reduced-fee early deadline of June 30, regular deadline July 12, 2021 and final deadline July 26, 2021.  This year's winners will be announced in the fall.
Eligible entrants can submit a combination of professional and personal work in graphic design; advertising art direction and copywriting; architectural, environmental and interior design; industrial and product design; digital (UX/UI, experiential design, interactive, web design, apps, game development): film and animation (motion design, television, video); fashion; typography and lettering; illustration and photography.
All Young Guns winners will receive a unique version of the iconic Young Guns Cube, designed exclusively for this year's incoming class, and have their permanent profile page added to the Young Guns website.  Winners also receive a complimentary one-year One Club for Creativity membership, permanent membership in the Young Guns network, a chance to be featured in Young Guns events and an assortment of career-boosting opportunities from Young Guns sponsors.
Program branding and design of the Cube award itself is reimagined each year by a past Young Gun winner.  This year's YG19 branding and award are designed by Simon Chénier-Gauvreau (YG12), head of design at TUX Creative, Montréal.  Themed "Bright Days Await", the branding draws parallels between the bright future that Young Guns brings to a creative's career, and that of a post-pandemic world. The campaign features vibrant, bucolic visuals to create a lighthearted and reassuring feel.
Levine/Leavitt Artist In Residence Award
For the eighth consecutive year, international artists management agency and Young Guns sponsor Levine/Leavitt will bestow one talented winner with the Artist In Residence Award.
The honor is presented annually to a newly crowned Young Gun whose body of work truly stands out, as judged by an advisory board of industry professionals across a range of disciplines.  The winner receives a full year of professional development, guidance and mentorship from Levine/Leavitt to help advance their career.  
Young Guns 19 and other One Club activities are made possible in part through the generous support of sponsors including Levine/Leavitt and Shutterstock. 
---
The One Club for Creativity, producer of The One Show, ADC Annual Awards, Type Directors Club Communication Design and Typeface Design awards, Young Guns and Creative Week, is the world's foremost non-profit organization whose mission is to support and celebrate the global creative community.  The One Show is a top global awards show for advertising, design and digital marketing, focusing on the creativity of ideas and quality of execution.  Established in 1921, the global ADC Annual Awards are the world's longest continuously running creative award for advertising and design, honoring excellence in craft, design and innovation.  Creative Week takes place in June, and is the preeminent festival celebrating the intersection of advertising and the arts.