When it comes to corporate annual awards ceremonies, each year is a challenge to have that 'never to be forgotten' event superseding the previous year's. Rand Merchant Bank used Watchout to ensure synchronised displays for a colossal display with changing messages for an eight-hour period.
What's Watchout?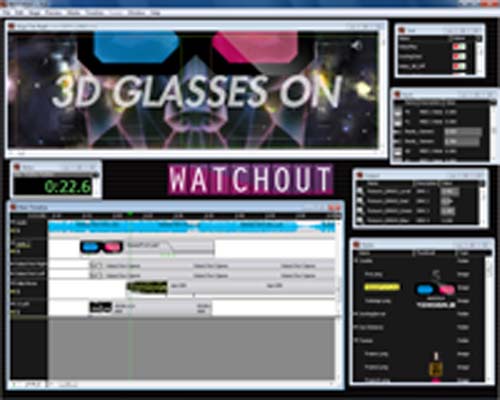 Watchout is a multi-display production and presentation system from Dataton, a Swedish-based show control developer and manufacturer. It is distributed in South Africa by Penmac, a multi-media specialist company.
Client requirements
RMB wanted synchronised displays which transformed content, including corporate messages and awards, according to schedule for an entire day.
The backdrop was the Sandton skyline in which the RMB building is prominent.
Technical requirements
The colossal height of three of the projected surfaces on the main stage meant a vertical edge blending of display devices was needed. "To accomplish this, the new features of Watchout version 5.2 were used," explains Malcolm Finlay, President of Penmac Audio Visual. "This effectively managed all the content for 11 data feeds, and the geometric correction and masking needed to replicate the individual shapes of the buildings on and off the stage."
Projectors used
"The main stage projection was mapped by four high definition (HD) resolution projectors. In addition a Roadster projector from Christie Digital Systems was dedicated to an information screen.
In order to complete the skyline, two additional projected surfaces were flown on the extreme edges of the main stage. They were vertically projected using four Christie projectors.

Surfaces synchronised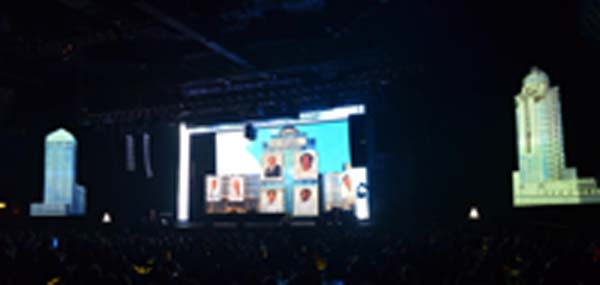 To depict changing corporate messages and staff awards, all surfaces were seamlessly synchronised. The 18-metre stage was framed downstage by a 16mm pitch LED mesh proscenium arch and the Sandton skyline was completed using a 12mm LED mesh dynamic 'sky' at the extreme back of the set.
All technical staging, including LED surfaces were supplied and rigged by EPH Productions.
*Look out for a detailed article on Penmac and Watchout in the September print issue. Further information on Penmac from Malcolm Finlay on 011 476 2066