Rich Shareable Pre-match as well as In-game Updates and More, Now Available in BBM Messenger
Creative Media Works, operating as BBM, has launched Football365 inside Discover in partnership with Planet Sport Publishing, a global, independent publisher of quality sports news and information.
Football365, now available in the BBM Discover menu, serves up the latest information covering all the leagues, teams, and goals worldwide. Football fans can now access and share pre-match and in-game updates to cheer with friends—and taunt rivals within BBM. Football365 also offers audio reports and provides instant reaction from clubs and managers.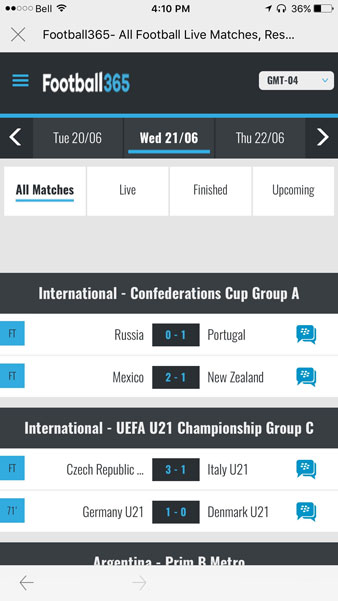 Fans in over 100 countries globally can browse matches by date, league or country, as well as review the status of live games or the final scores of finished games, and see what matches are coming up.
Football365 is a mobile-first, social-first ethos, suited to meet the needs of consumers who are increasingly turning to their mobiles to check the news of the day. It provides rich, sharable pre-match information, including previews, statistics and predictions.
BBM Messenger is one of the largest mobile messaging applications in the world. Since it was created in August 2005, BBM has evolved from a pure messaging application for communication (text and video) to a social ecosystem unifying chat, social, commerce, content and services including bill payment, top-up, vouchers/coupons, news, games, comics, video, shopping, travels, career, sports and polls.
"We are constantly exploring innovative ways to pique the interests of our users, and in this case via Football365," said Matthew Talbot, CEO of Creative Media Works, the company which operates and runs BBM globally. "As we continue to provide our worldwide user base with the content they want to read on the go, we wanted to ensure we would have Football scores, highlights and soundbites for every team. Football365 provides that—along with a novel approach to our rapidly evolving, social mobile platform."
"Football365 takes advantage of new technologies to give football fans a new depth and breadth of coverage on match days," says Tim Satchell, Planet Sport Managing Director. "By harnessing and taming the vast outpouring of social media updates from each game and combining that with our own data, audio and stats, we can offer BBM Messenger users the most content-rich, live football blogs available on mobile. We're excited to partner with BBM, who know better than anyone how to entertain on the mobile stage."
*BBM is available on the App Store and Google Play for free download.
---
About BBM
On 27 June 2016, Creative Media Works, a division of PT Elang Mahkota Teknologi Tbk. (Emtek, IDX:EMTK) – one of Indonesia's largest media, content and technology businesses – announced a long term strategic alliance with BlackBerry Limited to accelerate consumer BBM's research and development in offering new and exciting features, services and content to the global consumer market. As part of this strategy, BBM is making its APIs available to expedite the growth of partners and consumer services such as:
· Content – music and video streaming, games, sports, news, celebrity blogs, horoscopes and more
· Commerce – shopping, gifting and coupons/vouchers
· Online to Offline Commerce – booking movies, travel, health services, real-estate or job postings
· Finance – P2P payments, money transfer, mobile phone re-charge, and utilities billing
Creative Media Works now operates under the BBM banner as a stand-alone consumer focused business with teams operating from Waterloo, Mississauga, Ottawa, Singapore, Jakarta, UAE and South Africa. For more information, visit www.bbm.com.
Trademarks, including but not limited to BBM and BBM Design are the trademarks or registered trademarks of BlackBerry Limited, used under license, and the exclusive rights to such trademarks are expressly reserved.
Android is a trademark of Google Inc.
iOS is a registered trademark of Cisco Systems, Inc. and/or its affiliates in the U.S. and certain other countries. iOS® is used under license by Apple Inc.
Windows® Windows is either a registered trademark or trademark of Microsoft Corporation in the United States and/or other countries
About Planet Sport Publishing
Planet Sport Publishing, a subsidiary of Ole! Media Ltd, is an independent network of sports media brands that gives fans a voice – empowering them with entertaining content, knowledgeable analysis and attitude.
Our talented content specialists run Football365, TEAMtalk, Planet Football, Planet F1, Planet Rugby, Cricket365 and Golf365, using their experience and insight to provide coverage and interaction on a variety of emerging platforms and channels.
We are an ambitious team, based in the UK and South Africa, operating an expanding portfolio for passionate and opinionated audiences around the world. For more information, visit http://www.planetsport.com/.