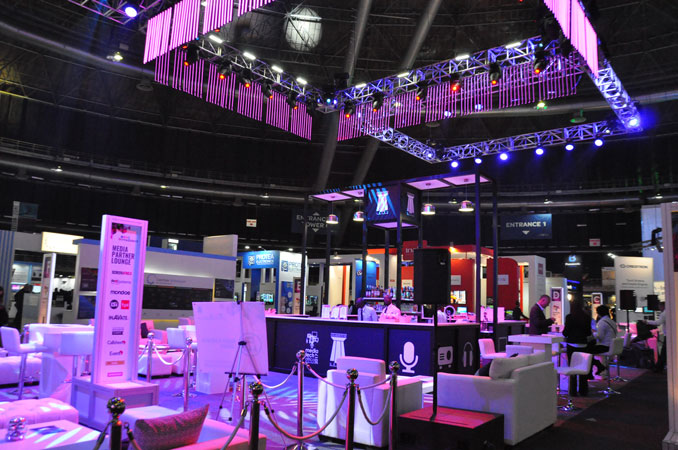 Prominent South African technical and event equipment supplier Gearhouse Group has again taken on the role of official technical sponsor of Mediatech Africa which runs from 17 – 19 July 2019. With the widest range of technical services currently available under one roof, backed by some of the most creative minds in the business, it's no surprise that this is the fifth year this robust partnership has been ratified. As in years past, some of the group's nine-strong business units have combined their high-tech equipment and expertise to meet the massive technical requirements for this preeminent media and entertainment technology trade show – a highlight on the South African expo calendar.
Gearhouse adds significant value to the three day expo and Mediatech exhibition director Simon Robinson says, "Gearhouse is recognised for its standing as the leading technical supplier to the live event industry. Far more than just a supplier to the show – they have a partnership approach and are as invested in the show success as we are," says Robinson. "Not just about the products available in six verticals, Mediatech is about innovation and bringing ideas to life using the latest tech and Gearhouse has the imagination and the proficiency to accomplish the intricacies of the show – making the impossible possible."
As the technical sponsor, the Group offers significant discounts to exhibitors on rigging and other high value equipment and this, says Robinson, is of enormous value to the industry.
"Gearhouse offers a 50% discount on all rigging points for exhibitors to assist with their show costs. More than this, as the technical sponsor, the group invests many resources into the technical aspects of the exhibition, ensuring seamless integration and the kind of high-tech delivery expected with a show of this nature."
Commenting on the 10 year association, Gearhouse Johannesburg Operations Manager Stuart Andrews says, "As a fast-paced expo celebrating its 10th edition, we are proud that the Mediatech team trusts us with the execution of the show. We have expertly crewed five Mediatech expos – consistently demonstrating our ability to seamlessly deliver on every aspect of our brief and expect 2019 to be no different."
Andrews adds that utilising only load tested equipment, engineered for safety, has given Gearhouse a spotless show safety record; a fact the Group is most proud of.  "While safety is our priority – we never ignore aesthetics and this winning combination is part of success formulae. We believe that when you pair technology with expertise, the possibilities are endless. Of course it gives us the chance to demonstrate our own skills and the opportunity to network with local and international colleagues, clients and suppliers is unmatched."
While Gearhouse's rental companies do not exhibit directly at the show, Gearhouse System Solutions is, and will be offering substantial show specials from stand G28 – most notably a 20% discount on the purchase of the digital poster systems. More than that – this is where they will reveal the division's visually innovative and unique transparent LCD screens.
"What makes the digital posters such an awesome advertising tool is that it's a simple plug and play system that's easy to use and allows synchronisation in isolation, as well as utilising a combination of screens working alongside one another. To upload content is simple – all you require is a USB drive which, you connect directly and content is easily uploaded to the screen," says Andrews.
Gearhouse Kentse Mpahlwa Academy, the group's training arm, contributes around 45 work-ready graduates to the industry (countrywide) every year through its annual Technical Production Services Learnership. As in 2017 – some of the students in the Johannesburg region have been involved with the technical aspects of putting Mediatech together – working under the supervision of the various divisions' Departmental Heads.
"You cannot put a value on this type of investment into both our youth and ultimately the future success of our industry. Through exposure to a show the scale of Mediatech, we continue to open doors of opportunity to the students at our Academy – an approach that we believe will give our industry an edge – as we turn out experts in the making," says Andrews.
Gearhouse is represented in many of the show's most evident touchpoints, including the incredibly popular Blackbox experience. Here the Group's opinion leaders will be part of the live sessions where they will deliver a holistic overview on the workings of the group – unpacking "What it takes to make it all happen with such precision" in their  presentation: GEARED UP for event success!
"With Mediatech's vision recognised by Gearhouse, we are amped to continue the creative journey together this July. Here's to another epic tradeshow – one that's already the talk of the town," says Andrews.
The Gearhouse Group consists of Gearhouse South Africa – technical supplier of Lighting, Audio, AV, Power Rigging and Structures; Sets Drapes Screens (Pty) Ltd – set construction and installation, specialised screens and draping; INHOUSE Venue Technical Management – catering to the day to day technical requirements of key conferencing, exhibition and event venues; LEDVision – full service LED rental; Gearhouse System Solutions – systems integration across the spheres of Audio, Video, LED Screen and Digital Cinema; Havaseat – Grandstand Seating systems; Splitbeam – long term professional hire for theatrical productions; Gearhouse In2Structures – South African designed and manufactured portable venues; Showcom, the newest member specialising in seamless  communication solutions for any major event and Gearhouse Kentse Mpahlwa Aca demy, technical training services provider.
Visit the Systems Solutions [stand G28] to engage directly with Gearhouse between 17 – 19 July at the Ticketpro Dome.
Mediatech – the tech trade show shaping the way creativity: Inspires. Innovates. Delivers.
---
Mediatech Africa is an engaging biennial trade show that brings creative thought to life within six verticals: Broadcast – TV & Radio; Film & Video Production; Digital Media; Pro Audio – Lighting – Staging; Audio Visual Integration; and Studio – Recording – DJ. An unmatched platform for networking, education and entertainment, this high energy – high impact event is all about the seamless integration of technology and creativity. It's about making the impossible possible. It's about innovation and bringing ideas to life using the latest tech. The three day event attracts global and local brands that are at the forefront of their industries. Thought leaders, decision makers and the highest calibre influencers who are shaping tech trends and the very industry itself – attend the showcase. By design, Mediatech Africa is an experience which visitors immerse themselves in, leaving invigorated and inspired by the possibility of opportunity and a fast forward glimpse into the future.  Visit Mediatech Africa on www.mediatech.co.za
Mediatech Africa is co-owned by Sun Circle Publishers and Reed Exhibitions South Africa.
#imagination #innovation #techtrends