Jacaranda FM scooped 3 awards at the Best of Pretoria Readers' Choice Awards 2019 – a glitzy event held at Candlewoods Boutique venue in Centurion on 22 October.
The awards celebrate the best that Pretoria has to offer, inviting Rekord readers to cast their votes for the best people and things in the capital city – from their favourite stores, service providers, markets, brands, restaurants, venues and educational institutions, to their favourite clubs, sporting stars, artists and radio stations.
Jacaranda FM won the awards for Best local radio station, Best local radio show and Best local radio personality – all for the 2nd year in a row! The organisers shared their feedback about each award:
Best local radio station
"Ever found yourself in your car in the middle of traffic, jamming to your favourite tune? Yes, it happens to the best of us. Radio plays such a big part in our lives and thanks to you guys, we get to thank those who work so hard to entertain us. This year's award for the best local radio station goes to… Jacaranda 94.2! And with presenters like Martin Bester, Rian van Heerden and  Elana Afrika-Bredenkamp, who can blame them? Congratulations guys!"
Best local radio show – Jacaranda FM Breakfast with Martin Bester
"Getting through early mornings can be tough. Many rely on their cup of coffee and morning radio breakfast show to get them going. We asked and you answered. Guess which show is everyone's favourite? The breakfast show with Martin Bester, of course! So the next time you are flipping through the stations, you know where to stop…94.2 FM in the mornings between 6am and 9am."
Best local radio personality – Martin Bester
"Not only did the Breakfast Show with Martin Bester reign supreme among the city's favourite radio shows, but its host Martin Bester also walked away with the title as favourite local radio personality. The host, MC and singer keeps listeners glued to their radios every morning between 6am and 9am. A big congratulations for winning for the second year in a row, Martin! We love your show."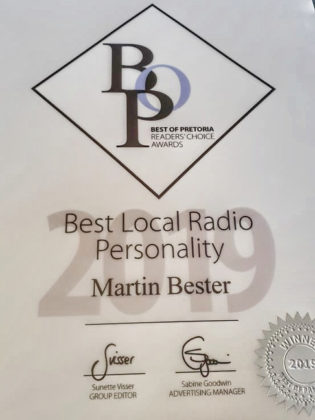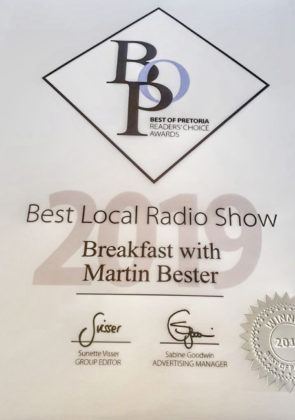 "It is a massive honour for us to receive these awards and we are greatly humbled by the positive feedback we received," says Jacaranda FM's Marketing Manager, Leith Smith. "Everything that happens at Jacaranda FM is a team effort, with some of the best talent in SA radio working tirelessly to push the boundaries of this powerful medium. These awards provide an excellent benchmark to ensure that we are on the right track with bringing our listeners and advertisers world-class content, breaking news, engaging events, community projects that change SA for the better and a constant flow of more music you love. We wish to extend our heartfelt thanks to every person who voted for us and a big word of congratulations to the other winners."
For more, stay tuned to Jacaranda FM, tune in to the station from anywhere in South Africa through the listen live platform, or via the Jacaranda FM app – available for Apple and Android.