Given the rapidly changing international marketing landscape, it is important that South Africa keeps up to date with global trends and there is a definite need to highlight the importance of marketing to business.
The inaugural Marketing Achievement Summit, which took place at Sun City on 27 June 2019, helped to future-proof the marketing industry in South Africa. Excellent speakers and panellists engaged the audience in discussions around marketing strategy, the future of marketing, reputation management and an array of other fascinating topics.
"We are here to set new agendas, to be engaged and to be disruptive. As the thought leaders, you can move the industry forward and set new rules of engagement," said Yvonne Johnston, chair of the Marketing Achievement Awards council, in her opening address.
This set the tone for the first presentation by Bronwyn Williams, business trends analyst at Flux Trends, who spoke about just this – the future of marketing communications.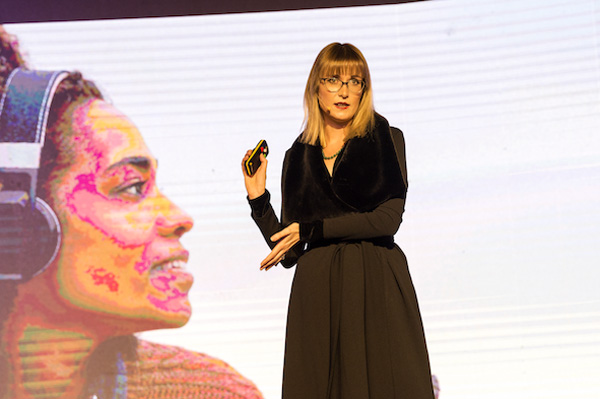 "Any real relationship is based on mutual trust and understanding. Fake news, jaded consumers and robot trolls have ushered in a trust deficit in marketing. Consumers are making more conscious choices of how they use tech," said Williams. "Big data has great power and with power comes great responsibility. Brand activism is on the rise, with brands not just speaking on a topic, but advocating for behaviour change."
The next session was the story of how Absa reinvented itself to become a truly world-class African brand. David Wingfield, head of executive marketing, and Jenny Moore, general manager, brand, design and functions marketing at Absa Group, shared their experiences of building a single brand across Africa and transforming the organisation to a digitally led company.
"Africa has many diverse countries and cultures. The challenge was how to build a world-class African brand that speaks to this," said Moore. To do this, the Absa marketing team, along with FCB, brought possibility to life and created the concept of "Africanacity" at the heart of which is connecting people to opportunity.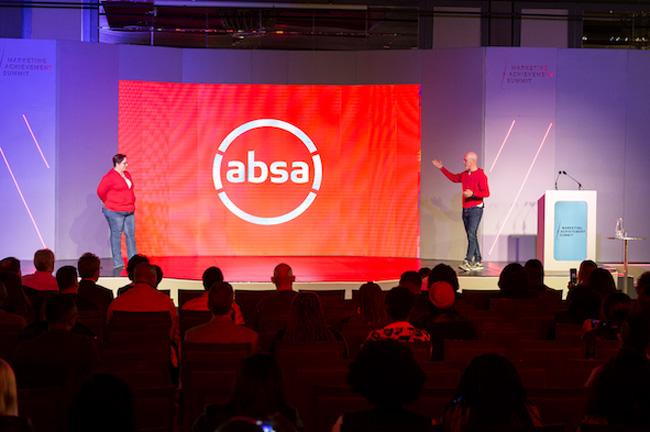 "In rebranding Absa, the focus was not just on a brand that spoke about purpose, but one that realised it. Trust trumps everything and the rule book can be thrown out of the window. Trusting our people with the brand before rollout fundamentally changed the culture of the organisation," said Wingfield.
Next up was a panel discussion about marketing with meaning and purpose, chaired by Afrika Tikkun Services CEO Onyi Nwaneri. On the panel were Doug Place, chief marketing officer for Nando's Africa, Middle East and India; Sazini Majopelo, head of citizenship at Absa; Clinton Middleton, business unit director at Leo Burnett; and Anna-Marie Marks, head of marketing at Kwese iflix. Today's consumers are not seeking quantity, but quality and relevance – purpose-led marketing revolves around a company's greater purpose – it is future-led marketing.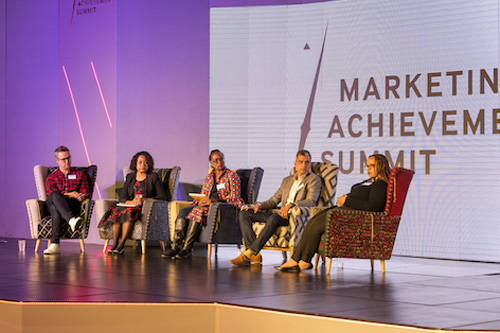 "Trust is central and the real agenda is about authenticity and meaning. We have to change how we do things in the marketing fraternity. The consumer has a voice about what the brand represents in terms of its actions," said Nwaneri.
"Purpose marketing is not a new thing, but one of the opportunities now is realising that purpose isn't something that happens in one department or an offshoot of the business – it should be part of the business strategy. We need to engage in longevity thinking … Brands that win create shared value; that solve both a consumer and a social need," said Place.
"In an economy that is contracting and not growing, it's important in the financial services industry to redefine the meaning of work, of being employed – consumers are working differently," said Sazini.
Middleton asked: "Are agencies holding brands accountable?"
Marks said: "The inherent inequality between clients and agencies needs to change."
Marketing Achievement Awards council chair Yvonne Johnston, and Sithembile Ntombela, Brand South Africa acting chief marketing officer, facilitated a discussion with the audience about co-creating a revised Brand South Africa strategy.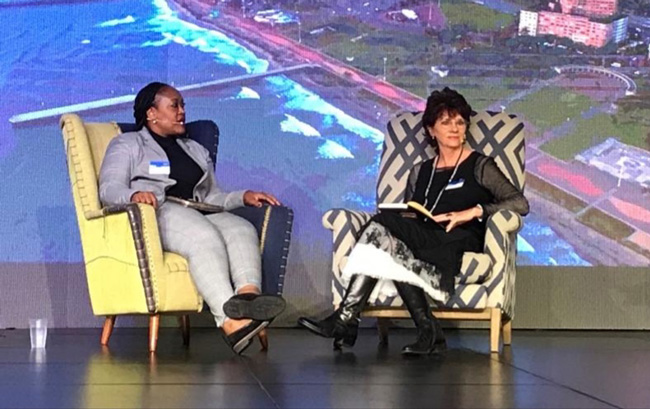 "The renewal of the South African identity, as outlined by President Cyril Ramaphosa in his 2019 state of the nation address, does not rest solely on the government. It rests on marketers, innovators, brands and all citizens. Every citizen is an ambassador for Brand SA – how we speak, how we engage and how we do business can all work towards growing the country brand," said Sithembile.
Johnston agreed, "Brand South Africa cannot exist without collaboration."
The day was filled with thought-provoking discussion, including a panel discussion about reputation management chaired by Tara Turkington, CEO of Flow Communications. The panel, representing a cross-section of civil society and the government and private sectors, comprised of Phumelela Dhlomo, the Road Accident Fund's former chief marketing officer, who now holds the same position at the Government Employees Medical Scheme; Luzuko Koti, Nelson Mandela Foundation director of communications of outreach; and Heidi Brauer, Hollard Insurance chief marketing officer, who is also an MAA council member and judge.
A company's reputation is central to any marketing initiative, and managing brand reputation is an ongoing, intricate process, affected by various elements and influences.
Marketers need to know how to manage a brand's reputation in a connected and "always on" communications landscape. These top marketers discussed how this core marketing function can be navigated successfully.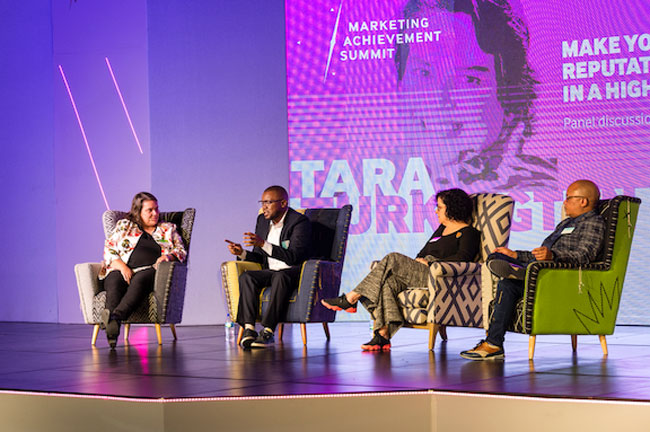 Turkington said: "A solid piece of advice for brands is that you don't want a story about you without you. In this era, you need your best people on your social media, not the office junior. The Flow mantra is: tell the truth, tell it first and tell it fast."
To this, Koti added: "Reputation, generally, is the most important tool in brand management. Communications is a science – trust your communicators. If you can't be trusted, if you can't be listened to and believed, your reputation is at stake. A brand is who you are, it's everything you live by and it's something you have to look after. The best strategy to manage your reputation is to tell the truth."
Dhlomo agreed: "Yes, honesty is the best policy – and engagement. Talk to the people who can help you drive the discussions you want to see happening. Don't forget to make sure your leaders are on the same hymn sheet as you are, as they are an integral part of managing a reputation. Don't wait for situations to happen – create scenarios within the organisation and work out what you would do if it were to happen."
Heidi Brauer shared these insights: "Reputation is what people say about you when you are not in the room – but the room's changed; it doesn't have long lead times any more. It's now. You have to be awake all the time, and honest and genuine. Listen to what people are saying and give them space. It's about building relationships all the time, not just in a time of crisis. It's about being consistent, having integrity and aligning what you think, what you say and what you do so that when you have to say sorry, you are believable. Don't speak when you have nothing to say if you want to be authentic. And if you have something to say, then have the guts to say it."
The summit ended with Kaya FM managing director Greg Maloka demystifying the black middle class, a misunderstood segment of South Africa's population. He explored misconceptions, realities and the segment's evolution, as well as Kaya FM's mission to shift the cultural needle.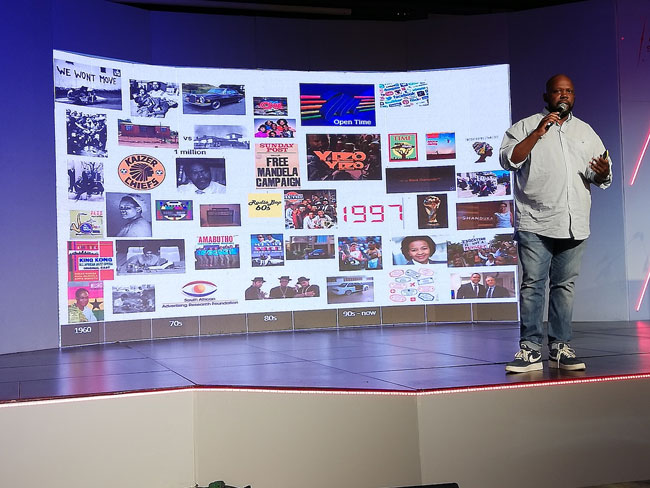 Maloka said: "The political structure of a country will affect how its marketers think. There's a problem in South Africa in that we don't have a single identity. There's a problem in that we don't understand each other. We need to ask if we are talking to people or joining a conversation. Kaya FM was licenced to talk to the black people middle class, they had to define what the black middle class was."
The summit was followed by the awards ceremony gala dinner, a grand and dazzling affair. There was much celebration as South Africa's top marketers came to the stage to be acknowledged for the excellent marketing strategies they had created for the world-class campaigns showcased at the event.
Log onto the MAA social media channels to find other insights and to see pictures from the summit and awards:
---
Full links
Marketing Achievement Awards:
https://www.marketingawards.co.za/
Marketing Achievement Summit:
https://marketingsummit.co.za/
---
About the Marketing Achievement Awards
The South African Marketing Achievement Awards celebrate excellence in the science and art of marketing. The awards recognise and reward successful marketing initiatives and thought leadership in the South African marketing industry.
Issued by Flow Communications on behalf of the Marketing Achievement Awards. For more information or to arrange an interview, please contact Daya Coetzee at daya@flowsa.com or on +27 (0)11 440 4841.