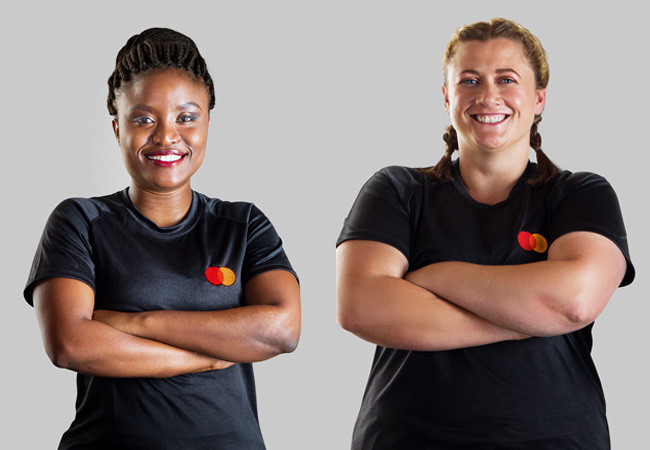 Mastercard, an active sponsor of major sporting events, has strengthened its commitment to women's rugby through the announcement of two Mastercard women rugby ambassadors – Piwokuhle Nyanda, a Springbok and Golden Lions Women's Rugby player, and Chanel Alberts, the head coach of Pirates Women's Rugby Team.
The move sends a powerful message for gender equality in sports and demonstrates a continued focus on gender balanced marketing.
The ambassadors will partner with Mastercard to engage cardholders, deliver Priceless Surprises, as well as participate in initiatives designed to raise the visibility and appeal of women's rugby to a broader range of enthusiasts, and inspire more women and girls to play the game.
Nyanda holds the record for the most points scored in a match at provincial level in South Africa, for both male and female rugby players. She plays both sevens and fifteens and has established herself as a utility back at provincial and national level.
"I am honoured to join Mastercard in supporting and advocating for women athletes in their quest for greatness and their pursuit of careers in all areas of women's sport. Through their support, we can develop and advance our game, while helping to make a difference in growing women's rugby," says Nyanda.
Alberts started the Pirates Women's Rugby club in 2017 in a bid to make rugby more inclusive for players from different backgrounds and make the women's game more accessible to South African fans. In 2019, she led the team to win Team of the Year the first ever win for a women's team in the 100-year history of the club.
"As a historically male-dominated contact sport, women have until recently not really had the opportunity to consider rugby as a hobby, let alone a career option. But the benefits of the organised game are hugely beneficial for women, whether its playing at a grassroots or national level, or coaching a women's rugby team.  Rugby is extremely empowering and liberating for women and I am proud to partner with Mastercard as we jointly unlock women's contribution to the game," says Alberts.
Nyanda and Alberts were invited to become ambassadors during a Mastercard Priceless Surprise. The unsuspecting women thought they were participating in a virtual panel interview, when Bryan Habana, one of the top test try scorers of all time, and Dan Carter, New Zealand star and three-time winner of the prestigious World Rugby Player of the Year award, popped up on the screen. Initial confusion and puzzlement reigned, but then their mentors made the official announcement, welcoming the women to the 'ambassadors club'. Alberts and Nyanda proudly accepted the ambassadorship and were then further surprised by their Pirates Women's Club who were there to celebrate their success.
Mastercard's new ambassadors will play an integral role in its 'Start Something Priceless' campaign, building on the company's passion-led strategy that aims to inspire people to follow their passion or purpose. In 2019, Mastercard unveiled a Priceless Surprise where its Rugby World Cup 2019 ™ ambassadors, Bryan Habana and Dan Carter, treated the Pirates Women's Rugby Club in Johannesburg to a priceless talk and field coaching session. This was so well received that in 2020 Mastercard announced its sponsorship of the Golden Lions Rugby Union amateur women's club league and senior women's team – a step in line with its continuous commitment to champion and develop grassroots women's rugby in South Africa. Globally, Mastercard supports the growth of women's rugby through its overarching relationship with World Rugby.
"At Mastercard, we have made gender equality a central, guiding theme, not only in our own diversity and inclusion efforts, but also in our business strategy and that's why we are building on our long-standing partnership with these two inspirational women by welcoming them as our first women rugby ambassadors," says Suzanne Morel, Country Manager at Mastercard, South Africa. "We believe that brands that connect to the passions of their audience become more relevant, trusted and integrated into people's lives. By investing significantly in women's rugby – both at a grassroots and global level – we have an opportunity to directly impact the lives of athletes and help build sustainable programmes to which girls and women can aspire."
---
About Mastercard
Mastercard is a global technology company in the payments industry. Our mission is to connect and power an inclusive, digital economy that benefits everyone, everywhere by making transactions safe, simple, smart and accessible. Using secure data and networks, partnerships and passion, our innovations and solutions help individuals, financial institutions, governments and businesses realize their greatest potential. Our decency quotient, or DQ, drives our culture and everything we do inside and outside of our company. With connections across more than 210 countries and territories, we are building a sustainable world that unlocks priceless possibilities for all. Follow us on twitter @MastercardMEA