Three mountain bike enthusiasts will be taking to the road – and dirt – on 3 April 2019, tackling a grueling route of about 1700 km with the goal of raising R 1 million for Jacaranda FM's Good Morning Angels in their "Miles for a Million Tour".
Hendrik Steytler, Deon Brink and Ivor Potgieter, will be visiting various towns along the way to explore SA in all its beauty and will eventually end their extraordinary journey at Jacaranda FM & Tracker's Off the Beat 'n Track – a family fun day of mountain biking and music that will be taking place at The Big Red Barn, Irene, on the 13th of April.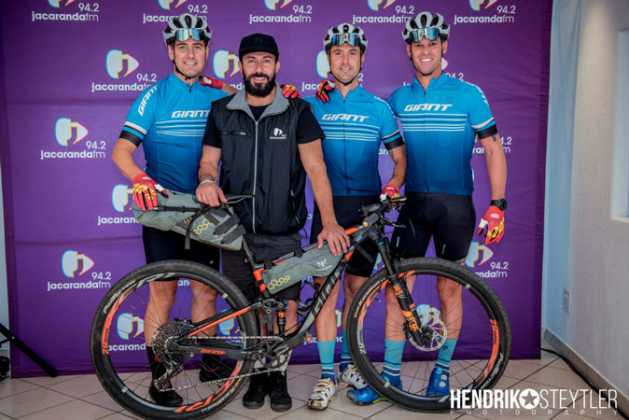 Their route will start at the Commodore Hotel at the V & A Waterfront on Wednesday morning and run through Wellington, Ceres, Kouebokkeveld, Houdenbek Farm, Tankwa Padstal, Tankwa River Lodge, Sutherland, Fraserburg, Carnavorn, Vosburg Town, Britstown, Potfontein, Petrusville, Van Der Kloof Dam, Luckhof, Koffiefontein, Petrusburg, Dealsville, Bultfontein, Wesselbron, Bothaville, Vredefort, Parys, Sandton and finally, The Big Red Barn in Irene.
Listeners and companies are invited to support the three cyclists on their 11-day trek, by sponsoring kilometers at R500 each. All funds raised will go towards vulnerable people and worthy causes through the Good Morning Angels Fund NPC.
To donate:
go to www.jacarandafm.com click on the donate button (registration on this platform will enable donors to receive an 18A tax certificate)
SMS "GMA", your name and "pledge" to 37942
E-mail angels@jacarandafm.com with "Donate" in the subject line
EFT to:  Good Morning Angels Fund NPC
               FNB Corporate Cheque Account 62803154400
               Ref: #MilesForAMillion
Jacaranda FM's Good Morning Angels, featured on the station's Breakfast with Martin Bester, has been on air for over a decade and has changed thousands of lives to date.
With the aid of everyday angels – individuals, businesses, organisations and well-loved celebrities – Jacaranda FM's Good Morning Angels have raised millions to help those in desperate need.
Whether it be a lifesaving or life changing medical procedure, a community or school that was hit by tragedy, a home that needs to be rebuilt after disaster struck, a family that just needs that financial jump start to get back on their feet or a bright young mind that needs a shot at a good education, the angels are there to lend a helping hand.
---
More about Jacaranda FM & Tracker's Off the Beat 'n Track:
Jacaranda FM and Tracker's "Off the Beat 'n Track" – Gauteng's biggest day of mountain biking and music for the whole family – will be returning to the Big Red Barn, Irene on 13 April 2019. 
The event features routes for tiny tots, intermediate, advanced and competitive riders, plus a world class music festival after the race and is set to be packed to capacity for its 3rd installment.
Kids aged 2-13 years can choose from the 1.2 km, 5 km and the 10 km riding distances. Note that minimum age restrictions apply: No under 2s for the 1.2km kids' event, no under 5s for the 5km event and no under 10s for 10km. From 5km upwards there are no maximum age limits.
Riders 14 years and up can choose the 25km riding distance and the advanced riders, 16 years and older, can enter the 50 km race which is a timed and seeded event, sanctioned by the Cycling South Africa Governing Body. 
To ensure the safety of riders, a strict "no helmet, no ride" policy will be applied.
Once the ride is done, participants and families can enjoy top-class performances from three of SA's favourite live acts: Rubber Duc, Dewald Wasserfall, Lloyd Cele and DJ Jazzy D. While the music plays there'll be Acrobranch for all ages, a designated kids' area and an array of food trucks too.
"This event and the atmosphere are one of a kind – and we're thrilled that it's now an annual part of the MTB calendar" says Kevin Fine, General Manager of Jacaranda FM. "There's something for everyone, whether you're a professional or casual rider or just starting out, or even if you're just there to enjoy the music and outdoors'. 
Tracker CEO, Wayne de Nobrega said, "This is the third year Tracker has partnered with Jacaranda to present Off the Beat 'n Track.  The event is now well established as a family fun day and we love that it takes place in a safe and child-friendly environment. It's a chance to spend the morning on your bike, relax on the lawns and enjoying some of SA's best musical talent." 
For more information, visit the Off the Beat 'n Track page on Jacaranda FM's website.