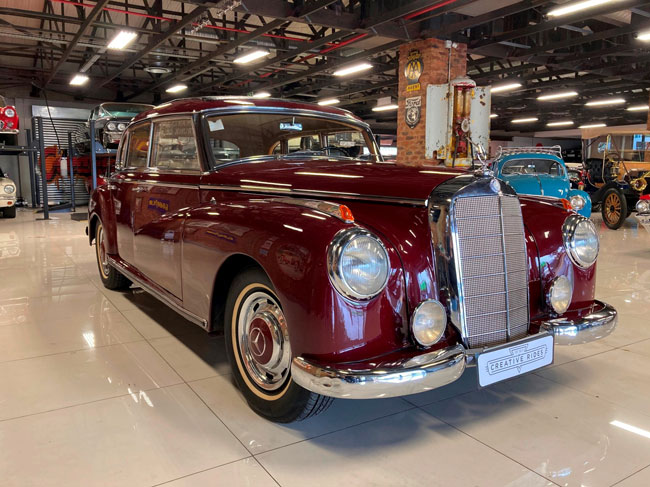 WEAVING into a compelling legacy tale the strands of memories from devoted children who were raised by a humble South African man with a lifelong passion for collecting exceptional automobiles, is a simple family story that resonated around the world.
And it was choosing the unorthodox route of showcasing the extraordinary life of the late Louis Coetzer rather than "hard-selling" the rare selection of vehicles in the run-up to the December 2020 auction of his prized automotive collection, that has now been recognized with a global marketing award. 
The announcement that the High Street Auction Company's Louis Coetzer Estate Collector Car Sale submission trumped more than 1 000 international entries to be chosen as the world auctioneering umbrella organization's Marketing Campaign of the Year 2021 has just been made by the Kansas, USA, headquarters of the National Auctioneers' Association (NAA).
High Street Auctions Director and Lead Auctioneer Joff van Reenen says given the singular quality and value of the Coetzer automobile collection, making the decision to focus a global auction publicity campaign on the life of an unassuming car aficionado who shunned the spotlight, rather than on the rarities he collected, was a calculated risk.
"The cars were breathtaking. They included a selection of rare models from what we came to learn was among the world's largest private collections of Mercedes Benz motors representing six decades of German automotive design.
"The logical plan – straight out of the Marketing 101 handbook – would have been to connect with specialist automotive media to showcase the exceptional models that High Street would be putting up for auction.
"Instead we put our faith in humanity's universal love of little stories; of wanting to peek into others' lives and wanting to share in their laughter and their poignant memories. By choosing to tell the story of "Oom" (Uncle) Louis, we could also tell the story of his amazing cars." 
The instinct to invite Oom Louis' three children, Lida van der Merwe, Jan Coetzer and Hermie Matthysen, to set down on paper their fondest memories of growing up among their father's cars, was spot on. With the children's blessing the narrative of their family reminiscences was then circulated to global media as a legacy tribute spelling out a remarkable but mostly unknown life that was devoted to family and rare cars.
Van Reenen says media interest in the story was astonishing and beyond expectation. In just five weeks preceding the auction more than 130 news stories were published on five continents and news articles on the Coetzer Legacy Auction were featured in approximately a dozen countries as far flung as America, England, Australia, Germany, New Zealand, India, Nigeria and South Africa.
As a result of the global publicity wave more than 275 classic car collectors in nine countries signed up to participate in the December 5 sale that saw increasingly fierce bidding as the auctioneer's hammer fell on lot after lot in the 140-vehicle auction.
The six-hour live-stream of the auction was also watched by more than 11 000 individual viewers on six continents. 
Speaking on behalf of the Coetzer children, Lida van der Merwe said after a year of global fears over Covid and in a time when loved ones were forced to live apart, it felt appropriate to tell a story that reminded the world of the importance of family.
"It's heartwarming that so many people in different countries, reading in a multitude of languages, could relate to our story. 
"We told a simple, human story about our parents, their love of family and our adventures growing up with a father who was a passionate car collector.
"We're very proud of our parents, and I believe they'd have been proud of the way they were honoured with their story being heard around the world."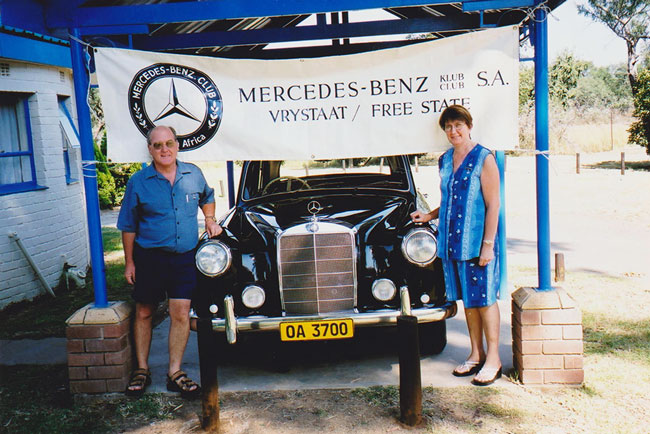 Founded in 1949, the NAA is the world's largest professional association dedicated to the auction industry. According to the NAA, impressive storytelling is what made High Street Auctions' entry for Marketing Campaign of the Year stand out over more than 1 000 others. 
"There was some stiff competition this year – especially the ones that adapted through Covid with such strong results. The High Street Auction Company edged the others out with the strength of their narrative on top of exceeding the other requirements. Just outstanding."
The judging panel of this prestigious award exclusively comprised media and marketing experts from USA Today, flagship of America's largest local-to-national digital media organization that employs more than 5 000 journalists and boasts in excess of 150 million unique monthly readers of its news sites.
Van Reenen concludes: "We were completely astounded; it literally took our breath away when we received the news (about the global award) and we're still celebrating. It's an enormous accolade which shows that the South African auction industry is world class.
"We understand how to connect with people across cultures and across borders and ultimately it's our clients who reap the rewards."