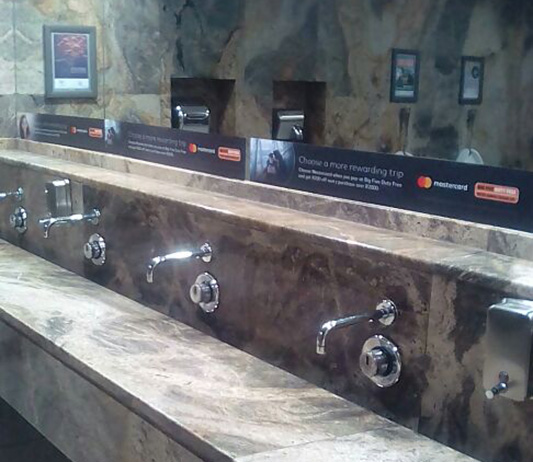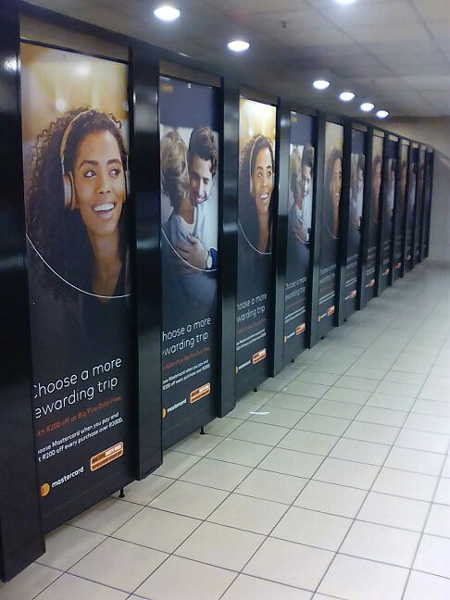 Everybody uses it, we visit it at least a few times a day, we go there on our own and even though we're only there for a short time, we remember great graphics and clever payoff lines from the washroom.
Industry leader in indoor lifestyle advertising in washrooms, airports, gyms, nightlife, cinema, fitting rooms and many other lifestyle focused environments TLC, is reaping the benefits of consistently delivering massive audiences and high recall at affordable advertising rates.
"Over the past few months we've seen brands in the washroom that would normally not so easily consider this environment," says Greg Bruwer, TLC's Managing Director. "Brands like Mastercard are relishing the marketing and sales returns of this platform, especially considering the monthly footfall in airports of over 3.7 million people. Conservatively if 75% of those people go through the washrooms, we have a captive audience of more than 2.8 million people focused on one brand. What's more is that our messaging can be gender specific, making it even more relevant and memorable to the consumer."
TLC has also signed Powerade in its Planet Fitness gym portfolio, a new advertiser to the health group's 160 000 visitors per month, with messaging specifically targeted and relevant to health and fitness minded people. "To really ensure that Powerade's brand sticks with gym-goers we're carrying out activations right there on the gym floor, encouraging active engagement directly with the brand's target market. As consumers, we're much more likely to form an affinity with a brand that we've had a pleasant experience with," says Greg.
"ETV, Primeridian and Samsung are other long terms clients that swear by the platform," says Greg. "We have the added benefit of a solid portfolio, blue chip brands that keep returning and a strong reputation in the industry as cost effective but providing high value on the ROI monitor."
TLC's offering includes standard A4 fames, light boxes, mirror decals, complete door wraps, mall walkway billboards and fitting room branding amongst others.
For more information on TLC offerings contact greg@tlc-media.co.za or visit www.primedia-unlimited.co.za
---
TLC Unlimited
TLC (Targeted Lifestyle Communication) introduced the concept of washroom advertising to the South African market in 1996, and has since become the sole player in this media arena offering a plethora of in-mall and washroom advertising platforms such as standard and talking frames, cubicle wraps and treadmill branding to mention a few. More recently, TLC has expanded its portfolio to include a number of new businesses which are housed in TLC Unlimited (under Primedia Unlimited) namely TLC; Salon Media; and Fitting Exposure. Visit www.primedia-unlimited.co.za or www.tlc-media.co.za for more.