15 years in manufacturing display systems is definitely something to be proud of. Headed by Vic Anderson, owner of Clip Tite display systems and with a 25 year background in the signage and display industry. It can be said that they have a pretty good outlook on how display systems are designed, made and implemented. What constitutes good quality and how to keep the costs affordable to allow for everyone to benefit. No doubt, and as it is with any business, a great deal of planning and strategy goes into making each product a success. 15 years back Vic was working for a signage company that sadly went into liquidation.
Being in a position where he did not see any potential in looking for a job. Vic saw an opportunity in the service delivered to many signage companies by manufacturers and suppliers of clip frames and graphic display systems to the industry at that time. Vic said he recognized the opportunity presented here to offer a better solution. Vic says that he then set about designing his own system. Although not unique in displays, but possibly more innovative in the approach to the design and manufacture.
What drove Clip-Tite to become the successful company they are?
When Clip-Tite entered the market they had but only one mission. Clip Tite says –"to become renowned for being the best supplier with the best products at a fair value". Does this hold true today? You will need to put them to the test and see for yourself. We can tell you that Clip-Tite offers a wide variety of display systems and that they claim to be a proudly South African Company. Boasting a level 2 BEE status with a score of 81.27 BEE points and a BEE procurement recognition level of 125%.
Yes, But what products can they offer?
According to Clip-Tite they are continually improving and adding new graphic display solutions to their range of products. These can be found in more depth on their website but the basis of which are: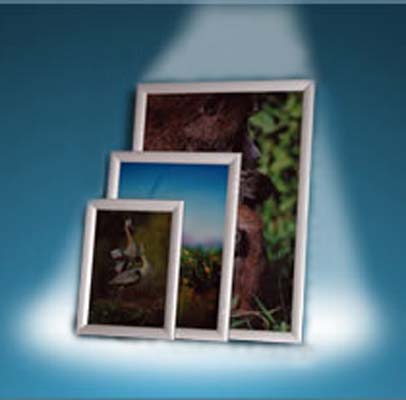 – Clip Frames and Clip Frame light boxes
– Banner Frames and BannerFrame Lightboxes
– Display Stands
– Edge-Lit LED Illuminated Displays,
– Sandwich Boards
– Office Boards and Notice Boards, Pin Boards and White Boards
– Signboards
– Fabric Frames and illuminated Fabric Lightboxes
Adcomm may in time go through a more detailed explanation of each product. But won't do that here. Clip-Tite will have you know that although these products or solutions are ideal for resellers, signage companies, ad agencies, printers, shopfitters, graphic designers, architects, event managers, picture framers and marketing professionals. They are not limited in their capacity to just manufacture standard size frames and displays, A0 through to A6 sizes. Their speciality is to also make up custom sizes to suit their clients' needs and to deliver these custom made sizes with a very short lead time. In our opinion definitely one of the display companies to utilize. They go on to say that their systems can be found throughout Africa and a great many countries in Africa, Tanzania, Kenya, Malawi, Botswana, Namibia Mozambique, Zimbabwe, Nigeria, New Guinea, Cameroon, Ivory Coast to name a few.
Their offices are situated in Wynberg, Sandton where Clip-Tite operates a fully functional factory. As mentioned above, information on their products can be found by visiting www.clip-tite.co.za or you can give Vic or Chase a call on 011 440 4910.