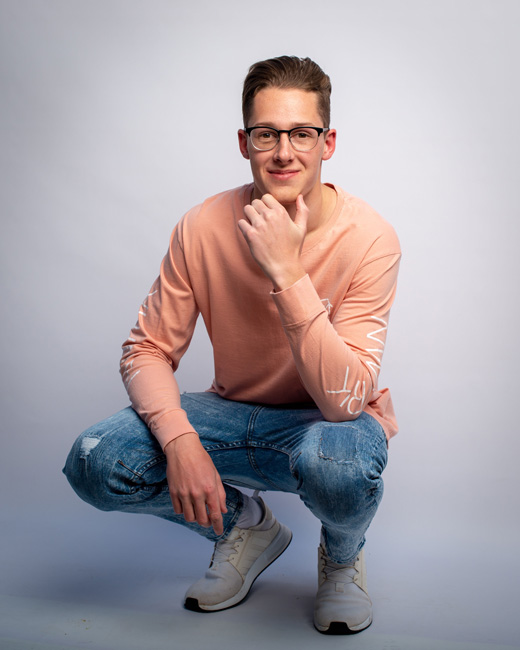 Young South African school boy's game becomes
a global hit on the App Store
Sixteen-year-old self-taught Johannesburg game developer Brandon Kynoch cracks the big time with the App Store choosing his game Torus. as its Game of the Day in 137 App stores worldwide.  This is the first time that a South African game has achieved such broad coverage on the App Store globally.
Kynoch's game Torus. was downloaded 100 000 times during its first 24 hours on the App Store. Torus. snagged the number one spot in Free Action Games, number two in Free Arcade Games and number five in All Free Games, which is remarkable, considering Kynoch taught himself programming and design.  
 
Torus. is an action game that masterfully builds upon the player's instinct to connect dot's.
The game is designed to guide a player to find his way with ease. From first glance at the screen, even the most uninitiated player will just know where to tap first and where to tap next. Progressively, the clever design invites players into the game through a series of obstacle avoiding thumb gestures.
 
For a programmer to develop a game of this quality all by himself is rare, even more so because Kynoch is completely self-taught, having gained all of his programming and artistic skills by himself. 
 
Kynoch's success with Torus. follows on the breakthrough of his first game called Blast which he developed just under two years before working on Torus. He had done all of the work on Blast himself, apart from the audio design and music composition that he outsourced to a professional studio based in California.
 
"I became interested in game development, programming and graphic design at the age of eleven. Since then I have taught myself absolutely everything I could by using free learning resources on the internet and computer science books that I bought on Amazon.
"Initially I was more interested in digital art and graphics design, especially 3D art and photorealistic renderings. This grew my skills in terms of the graphical side of game development.
 
"At the age of 13 my interest shifted back to game development. Now that I was skilled in computer graphics and art I focused on programming. I've learnt C# and Java and used C# to develop my app. I also spent a lot of time studying computer science, again through online courses and various books. I have a huge interest in algorithms and algorithm analysis," he says. 
 
"I was very happy with the final product and the performance of Blast on the App Store, considering that it was my first published game,"
After Blast he decided to focus on a much smaller game, since it's a perfect medium to combine and practice design and coding. This is how he developed Torus.  After seeing the results of that particular exercise, he decided to share his game with the world.
 
Kynoch is also working on his one-man company, Hard Graft Studios, which he plans to develop into a triple-A game-development studio after he finishes school at St Stithians College in Johannesburg.
 
"I plan on releasing a few more games similar in scale to that of Torus. this year. The number of apps I will develop depends on how successful they are, what profits I can generate and, unfortunately, how busy school will keep me. I can develop a game similar to Torus. in a matter of weeks; the first release of Torus. was developed in just six days," he says.
He has always loved America and would like to move to North America after matriculating to study computer science at MIT (Massachusetts Institute of Technology) or Stanford University, and to develop his studio headquarters in America.
 
Torus. is a fun, fast-paced, engaging arcade game that people love to have on their phones for quick and relaxing play sessions – as evidenced by the high number of 5-star reviews the game has received since hitting the international audience.
 
Torus. and Blast are available on the App Store.