While mobile has been around for more than a decade, it's only now being included as part of the broader communications strategy and not added as an afterthought to the creative process. This is according to Sarah Utermark, Country Director for the Mobile Marketing Association (MMA SA) who recently, held the first of the MMASA's "Creative Exchange" workshop for brands and agencies.
Offering a line-up of heavy-weight speakers, including the UK's Shazam's Filippo Vizzotto, Tiger Brands' Lunga Ngcime, Justpalm's Patrick Palmi, Yum's Benjamin Schoderer, Futuretech's Carl Sandells and radio personality and founder/ host of CiffCentral.com, Gareth Cliff, key insights and best practices of mobile were debated.
Here, Utermark shares her top take-aways:
Mobile targets individuals, not stereotypes, with emotive creative that inspires and motivates action. This was the takeout of Schoderer's KFC's "Add Hope" case study. Story-telling was a key feature of its success, and motivated customers to ensure they donate R2 to KFC's Add Hope programme which supports 138 charities in South Africa feeding more than 125.000 children nutritious meals every single day. Using innovative Virtual Reality / 360 video technology, the story of Add Hope and the children it supports was brought to life, a key factor for KFC consumers when adding R2 to their meal. A mobile ad campaign with a strong call-to-action was created to increase awareness with key target audiences, particularly 16 – 35-year-olds, based in metro areas, encouraging them to donate to KFC's cause every time they visit a KFC restaurant. In the week following World Hunger Day 2017, 55 000 videos were viewed with a 91% completion rate, and engagement was nine times more than the global standard, recorded at an impressive 27%. All this contributed to KFC exceeding the Add Hope donation target for May 2017 by over 35%.
Unlike traditional mediums, mobile can leverage current topics and drive interaction with consumers. Richard Walton, CEO of Digitata Insights presenting Unilever's Sunlight 2-in-1's campaign was a case in point: Highlighting the ongoing drought in the Western Cape, the campaign's creative garnered support from 425 000 people, largely from Gauteng (70%), who played the "Sunlight" water-saving game after being engaged via SMS or social media. For each bucket of water 'saved', Sunlight donated the same, providing 120 000 L of fresh water to affected areas.
Futuretech's Carl Sandell's campaign – which is still live – saw a similar surge of engagement for its client Lucozade. Using geo-location, video, gamification and social media, consumers are compelled to win their share of R500 000 by buying product in-store and sharing a selfie on social media. To date, R486 150 has been allocated to winners with 2914 winners in total. Coupled with a total spend of R200 000 (agency and media spend), it so far has delivered impressive ROI. Click here to download the Lucozade's presentation at the MMA SA Conference.  https://we.tl/ESpSMh0NvK.
Keynote Gareth Cliff shone the spotlight on the importance of hearing – versus seeing – in campaigns. In a visually cluttered on and offline environment, listening, via a podcast, is an extremely powerful tool to talk to people who are genuinely interested in a brand's content.  As consumers' time becomes less and less, ironically partly thanks to an increase in time-saving technology, podcasts can be enjoyed anywhere, and while doing other things. However, despite their obvious consumer attraction, Cliff warned that brands shouldn't just jump on the podcast bandwagon as, frankly, many fail at producing quality content.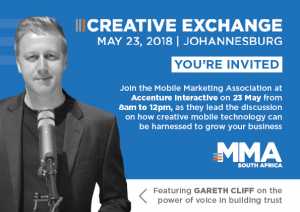 "The truth is, content produced by brands is largely amateur and lacks the 'pull' that a podcast attracts," says Cliff. So while brands may have more work to do in this space, those who get it right, gain the trust of an engaged audience who want to listen to what they have to say, at their leisure.
Despite massive inroads in mobile innovation across the continent, African brands and agencies still aren't getting the same level of airplay that international brands are – despite many successes. This is according to Patrick Palmi from Justpalm. The reason? Local governments are slow to celebrate and showcase mobile developments from their own country, essentially keeping case studies under the radar, while the Facebooks of the world continue to receive the lion's share of attention.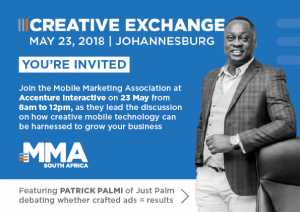 Echoing this, Cliff also highlighted that the majority of mobile spend gets pumped into Google and Facebook. He said that Silicon Valley isn't that interested in local brands, and recommended guests to "pump more investment into local channels that do care about at-home growth." Lunga Ngcime agreed and said that stories such as the Senegalese entrepreneur who created an app for local farmers to sell their goods to customers need to be told more in South Africa, as "mobile solutions are being created, en masse, by Africans for Africans."
Utermark concluded by saying a key part of the MMA SA's job is to do just that. For more local case study insights, visit www.mmasa.org.