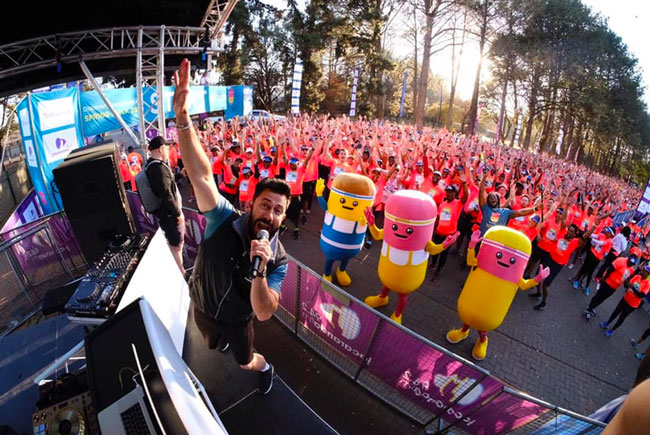 On Saturday 14 September, just under 8000 participants celebrated the start of the season at the 8th annual Discovery Jacaranda FM Spring Walk. The popular Pretoria-based event took place at the iconic Loftus Versfeld and catered for people of all ages, with 5 km, 10 km and 15 km routes – as well as live entertainment – on offer.
"The Discovery Jacaranda FM Spring Walk always promises a terrific vibe, and this year did not disappoint," says Discovery's Head of Experiential Marketing, Iona Maclean. "We were delighted once more to see so many people of all fitness levels enjoying outdoor exercise and quality time with their family and friends."
Jacaranda FM's General Manager, Kevin Fine, says: "We're really happy with the turnout and the fact that thousands got to enjoy walking the streets of the Jacaranda City, then be entertained by Roan Ash, Bok van Blerk, Nick McCreadie and DJ Jazzy D. The young ones also had a blast in the kiddies' area. We're thankful to Discovery for making it happen with us and, 7 years after we started this event, it's a highlight on the calendar for everyone in the Jacaranda FM family."
Maclean adds, "We know that regular physical activity can significantly lower your risk to chronic diseases, and the overwhelming success of this year's Spring Walk is a happy reminder that there are many steps we as individuals can take – literally and otherwise – to improve our health."
"With September marking Heart Awareness Month, Discovery wants to encourage all able South Africans to care for their hearts this Spring by making a habit of brisk walking or jogging."
For more, visit www.jacarandafm.com
---
About Jacaranda FM
Jacaranda FM is one of the most popular radio stations in South Africa, broadcasting in English and Afrikaans across Gauteng Limpopo, Mpumalanga and the North West Province. In its 30 years the station has won numerous awards by playing more music than any other radio station, and providing an array of entertainment and engagement with over 3 million people in our community. Through radio programming, social media engagement, concerts, sporting and social events, as well as sustainable responsibility initiatives, the station provides a powerful market access platform to clients. Visit www.jacarandafm.com for more information.
---
About Discovery
Discovery Limited is a South African-founded financial services organisation that operates in the healthcare, life assurance, short-term insurance, savings and investment and wellness markets. Since inception, Discovery has been guided by a clear core purpose – to make people healthier and to enhance and protect their lives. This has manifested in its globally recognised Vitality Shared-Value insurance model, exported to over 20 countries and reaching over 11 million members. Discovery trades on the Johannesburg Securities Exchange, with a market cap of $7 billion.
Follow us on Twitter @Discovery_SA