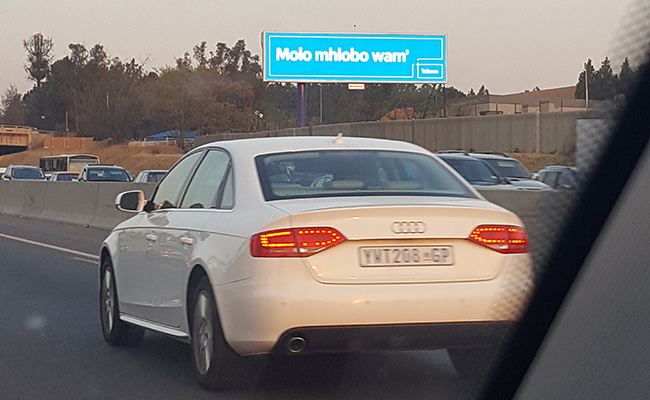 Telkom's brief to Artifact Advertising was a rare opportunity for the agency, giving them carte blanche to create daily tactical content for a major outdoor site.
The first outdoor billboard that is able to change messaging daily is on the N1 near the Rivonia off ramp. The text has to be less than six words and if you can take a fresh piece of news from the morning and get creative in your writing and design, it's up for the world to see that afternoon.
Artifact Advertising Social Media Strategist Kevin McLennan says he was just enjoying the daily challenge and had no idea how engaging the campaign would become: "We have had loads of positive feedback on social media, extending our reach beyond outdoor."
McLennan's daily billboard 'tweets' include "We hope your drive is LIT", "What will you change today?", "You're on your way to success", "Wathint' abafazi, wathint' imbokodo" (Strike a woman and your strike a rock) and "This is the route to your destiny".
McLennan says the primary focus is simply to increase engagement with consumers by bringing a smile to their faces with the novelty of a billboard that changes daily.
"It's more about the platform than a branding message and is meant to drive positive reinforcement – which of course then becomes associated with the brand."
Telkom Social & Digital Media Specialist, Mishqah Paruk says: "We decided to try a completely new platform for Telkom and it has been a great success, creating daily consumer engagement. It's immediate, very eye-catching and people have reacted positively. That's good for our brand."