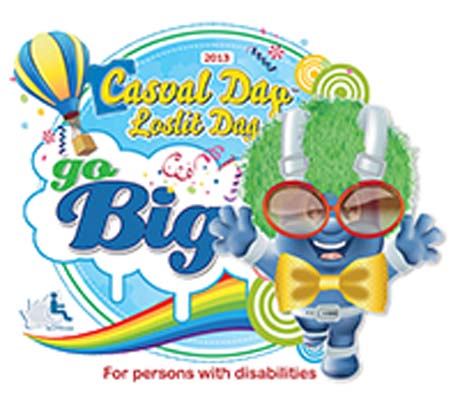 Organisers for Casual Day, which is taking place on Friday 6 September, have chosen Pantone 17-5641 Emerald, the Colour of the Year for 2013, as the guideline for the colour choice for the 2013 campaign.
Pantone – colour authority
"Pantone is the global authority on colour and provider of professional colour standards for the design industries," says Casual Day project leader Celeste Vinassa. "Each year Pantone decides on a colour that influences fashion, home, industrial and graphic design for a year."
She says that colour communicates subliminally with its audience and organisers for Casual Day like to be on trend. "Pantone looks to everything from new films, art, music, technology and even to sports. Although the project is a fundraiser, we encourage people to have as much fun as possible, and go over the top for a day."
Colour description
Pantone 17-5641 Emerald is a lively, radiant, lush green and you will see it represented in the sticker design and all the marketing collateral. "We have used a range of greens and blues, giving the overall impression of emerald. Able, the Casual Day mascot, can be seen wearing a green wig. According to Pantone "emerald, a vivid, verdant green, enhances our sense of well-being by inspiring insight, as well as promoting balance and harmony".
Synchronous with Casual Day's new era
Vinassa says that emerald is the colour of growth, renewal and prosperity and is synchronous with Casual Day's new era. "When designing any campaign, colour is critical to its success. Each year we change the look-and-feel of the campaign, using the theme and the colour of the year as a catalyst. The Casual Day brand is now in its 19th year and it is a firm favourite with its fans, but we always need to expand our footprint."
Symbolic meaning
According to Leatrice Eiseman, executive director of the Pantone Color Institute®, "Symbolically, emerald brings a sense of clarity, renewal and rejuvenation."
Casual Day
Casual Day is a project owned by the National Council of Persons with Physical Disabilities and has been run in partnership with its national beneficiaries, SA National Council for the Blind, Disabled People South (DPSA), SA Federation for Mental Health, Deaf Federation of SA (DeafSA) and Epilepsy SA, for the past 18 years.
Beneficiaries grow
South Africa's most successful fundraising project for persons with disabilities, Casual Day has invited eight new organisations to join its beneficiary family: Autism South Africa (ASA), Down Syndrome South Africa, The National Association for Persons with Cerebral Palsy (NAPCP), the South African National Deaf Association (SANDA), the National Institute for the Deaf (NID), QuadPara Association of South Africa (QASA), Alzheimer's South Africa and the South African Disability Alliance (SADA).
Casual Day is on Friday 6 September 2013. Leading retail group Edcon, is Casual Day's principal financial sponsor. Stickers are available at all Edcon stores, which include the following brands: Edgars, Jet, JetMart, Boardmans, CNA, Red Square and LEGIT. Stickers will also be available at Absa, Game and DionWired stores, Checkers, Checkers Hyper or any of the participating beneficiary organisations (for full list see www.casualday.co.za).
*For further information on Casual Day phone 011 609 7006.