"A Tribute to Mama Africa"
In association with Alliance Française , iSupport Music Business presents a tribute to the legendary African star Miriam Makeba titled "A Tribute to Mama Africa" brought to you by the Durban based Thulile Zama. Zama is a versatile vocalist that aims to keep us inspired in her latest musical theater performance. The performance will take place at Alliance Française de Durban on Thursday 26 April 2018 at 6pm. The entrance fee is R80 and tickets are available at the door, bookings can be made.
Miriam Makeba, who was a vocalist and human rights activist, was the first soloist to put African melodies abroad in the 1960s. She is well acknowledged throughout the world and also known as 'Mama Africa'. Miriam Makeba's career influenced Thulile Zama and her band members to such an extent that she found it fitting to do a tribute in honour of Mama Africa. Her and her band have chosen songs from different era of her illustrious career including favorites like Pata Pata and Click song, but also the ballads like Promise and the heart wrenching offerings.
" Miriam Makeba's Music was beautiful when it was made, and it is beautiful today. The lyrical content and amazing arrangements influence me as a musician daily. Even in my own original material, I try and produce music that you will still be enjoying in 20 years from now. I feel as much as there are a lot of people who know and love  her music, there are also a lot of people who are only familiar with the songs that became famous like the Click song (Qongqothwane), Mbube and Pata Pata (which are on the repertoire) but, her music is rich and full of depth. She brought to life a lot of songs that I feel also deserve the "limelight" as much as the more famous ones.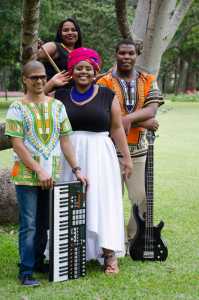 We are inviting people from all backgrounds and ages to come watch this show, as we are honoring a legendary South African musician that we want to keep alive throughout generations." Says Zama
The band will be made up of Thulile Zama on vocals, David Smith on keys, Rebekah Doty on drums and Sbusiso Mkhonza on bass guitar. The performance will also feature the uLozolo dancers and with choreography by Lucky Cele.
The Fusion French Café will provide a choice of Sophia Town inspired food.
Details:
Thursday 26 April 2018
Tribute to Mama Africa, Miriam Makeba 
Alliance Française de Durban
22 Sutton Crescent Morningside
R80 // Bookings: info.afdbn@alliance.org.za
The use of "Miriam Makeba®" courtesy of the ZM Makeba Trust and Siyandisa Music (PTY) Ltd.