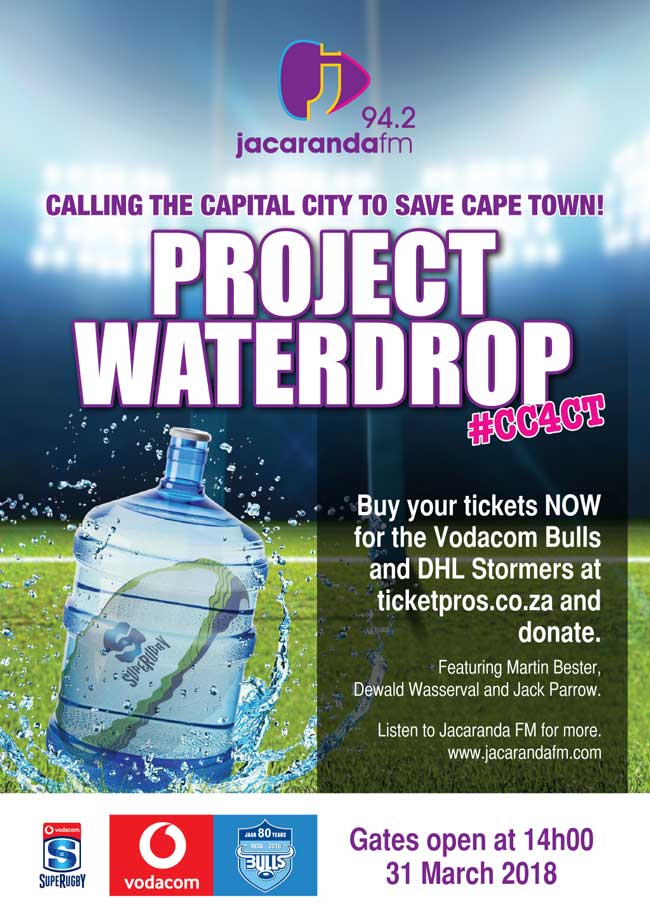 On 31 March 2018, during the Super Rugby clash between the Vodacom Blue Bulls and the DHL Stormers, Jacaranda FM will fill Loftus to capacity in a bid to raise much-needed funds for the Cape Town water crisis with Project Waterdrop. It is set to be a day of first-class rugby and top entertainment by the likes of Dewald Wasserfall, Jack Parow and Martin Bester, all for a fantastic cause.
After being asked how they think the Capital City could help the Mother City, Jacaranda FM's listeners wanted a plan that offers sustainable, meaningful and cost-effective assistance to vulnerable people residing in Cape Town.
The Cape Town Water Crisis Committee confirmed that rural schooling communities are the most vulnerable in this instance. Without water, the ablution facilities at these schools can't be used. So essentially: No water, no school.
As a result, Jacaranda FM's Project Waterdrop will specifically be focused on installing boreholes with solar pumps at the schools that are most heavily affected in the Western Cape, each at an estimated minimum cost of approximately R50 000.
Kevin Fine, General manager of Jacaranda FM, says: "In 2016, Jacaranda FM's listeners donated nearly 2 million litres of water across three provinces in South Africa in a staggering time of under 48 hours. We know that we have the most generous and giving listening community in South Africa." 
He continues: "Whether you support the Vodacom Blue Bulls, the DHL Stormers, any other rugby team or no team at all, we urge you to please be at the game on the 31st to show your support. Together, we can make a real and sustainable impact on the schooling communities in the Western Cape who are in desperate need of water infrastructure aid."
Individuals who choose to pit their weight behind Project Waterdrop, can do so in four ways:
Attending the game on the 31st of March to show their support and making a monetary contribution on the day.
Contributing via the "2018 Project Waterdrop" page of the Ticketpros website, where donations can be made in increments of R20.
Making a donation directly to Jacaranda FM's Good Morning Angels, FNB Account, branch 255005, account 62411883590 with "ProjectWaterDrop" as reference.
Helping to spread the word about this initiative on social media with the hash tags #ProjectWaterDrop and #CC4CT (Capital City for Cape Town).
Companies and individuals can also choose to adopt a school, or schools, by committing to covering the full R50 000 per school. They can do so by e-mailing angels@jacarandafm.com with "Project Waterdrop Adopt A School" in the subject line and the details of their contribution in the body of the e-mail.
"This project fits into the very essence of what we're about as a station," Fine concludes, "We're the station who endeavours to make a meaningful and lasting impact on South African communities whilst lending a voice to passionate South Africans who are willing and able to assist others in need, in their time of need."