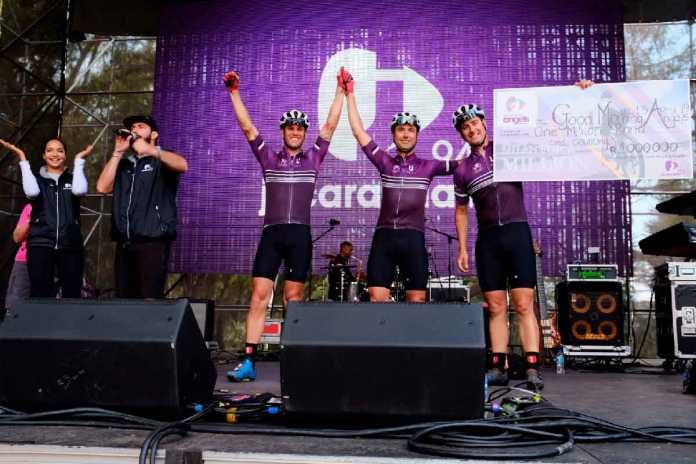 Off the Beat 'n Track draws more than 3000 as "miles for a million" riders' epic 1650 km journey comes to an end.
It was confirmed on Jacaranda FM Breakfast with Martin Bester that the #MilesForAMillion trio – who pedalled a gruelling 1650 km from Cape Town to Pretoria. Managed to raise a total of R1.5 million for Jacaranda FM's Good Morning Angels. Here's how it played out on air: https://www.jacarandafm.com/shows/breakfast-martin-bester/milesforamillion-team-have-raised-more-million/
---
Included from Saturday's Off the Beat n Track event which took place on the 13th of April 2019 – when the gents arrived in Pretoria. – below is a video that Martin Bester made for them for Saturday, summing up their epic journey: 
In case you missed out:
The third installment of Jacaranda FM and Tracker's "Off the Beat 'n Track" – Gauteng's premier mountain biking and music event for the whole family. Held at The Big Red Barn in Irene on 13 April 2019. Drew a crowd of more than 3000 riders and supporters, raised more than R1 million for Jacaranda FM Good Morning Angels and showed that "My f** Marelize" is now an almost-avid rider. 
The event was attended by people from all over Gauteng and neighbouring provinces. Even as far afield as, well, Namibia and featured routes for tiny tots, intermediate, advanced and competitive riders.
Riders as young as 3 and as "not-so-young" as 65+ enjoyed the picturesque trails around Irene. The 50 km men's race, sanctioned by the Cycling South Africa Governing Body, was won by Phillimon Sebona, with Jaedon Terlouw in 2nd place and Pressmore Musur Dhlamini taking 3rd. The women's race was won by Danielle Strydom, with Chloe Gardner taking second place and Yolandi Mostert in third.
Viral sensation, Marelize Horn from Windhoek, was also up to the challenge by successfully completing the 5 km route without serious incident – barring one tree that made its way onto her path. Showing that she's developing into a mountain biking prodigy.
One of the biggest highlights of the event was when the crowd welcomed three very courageous mountain biking enthusiasts – Hendrik Steytler, Deon Brink and Ivor Potgieter – with a massive round of applause and cheers. Off the Beat 'n Track marked the end of their beautifully scenic but gruelling 11-day, 1650 km journey from Cape Town to Pretoria for their #MilesForAMillion tour.
Through the generous support of various individuals and companies across South Africa. This remarkable trio managed to raise a total of R1 million – an amount that is still growing – for Jacaranda FM's Good Morning Angels. Which is hosted on the station's Breakfast with Martin Bester, focuses on helping those in desperate need and has changed thousands of lives to date. The final tally of funds raised will be revealed on the show on Monday morning just after 7am.
Once all the races and formalities were done, everyone enjoyed top-class performances by five of SA's favourite live acts – Rubber Duc, Dewald Wasserfall, Stone Jets, Lloyd Cele and DJ Jazzy D – while relaxing on the grounds' lush lawns.  There was also Acrobranch for all ages, a designated kids' area and an array of food trucks for families to enjoy.
Here are some pics from Saturdays event.
Jacaranda FM and Tracker's "Off the Beat 'n Track"