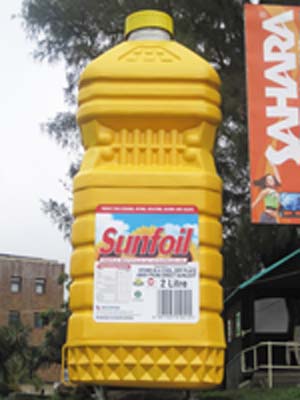 A one ton Sunfoil Giant Bottle modeled on those stacked on supermarket shelves has been positioned on the grass embankment at Sahara Stadium Kingsmead in Durban.

Bigger is better
As a symbol of the long term commitment made by the Willowton Group to Dolphins and South African cricket, the largest bottle ever made – according to Willowton Group's National Marketing Manager Hilton Cairns – has been positioned at the Sahara Stadium.
"A bottle of this size has never been made before," Hilton said. "The bottle was created to make a long term impactful statement. We wanted to leave a lasting impression and believe that the bottle will become a unique feature at the stadium."
Brand recognition
Hilton added that support from the KwaZulu Natal Cricket Union for the Sunfoil bottle project stemmed from the fact that the Union and Willowton shared a vision of making the Sunfoil Dolphins the most recognizable cricket brand in the country with its fan base, one that could even rival top sports brands like the Sharks, Bulls, and Kaizer Chiefs.
Sponsorship works
"Being involved with the Dolphins has helped propel our brand onto a national stage and assists in generating the awareness we require to get into the hearts and minds of the South African public," said Cairns.
Dimensions
The Sunfoil bottle is 8.8m high, 2.8m wide and took almost a year to complete. It began with the construction of a three metre deep concrete base embedding an internal steel cage, which forms the internal metal structure for the bottle, into it.
Behind the scenes
"The weight of the finished bottles is one ton, so it was necessary to ensure that it is safely secured and designed by a reputable engineering firm. When designing and manufacturing, we had to consider all the elements – heat, cold, rain, wind, expansion, contraction – so the bottle structure was not compromised. We even had to geologically survey the soil where the bottle was going to be placed to make sure it was capable of supporting the structure," Cairns explained.
The bottle itself was made in two parts and then sealed together. It was manufactured from multi fibreglass which has been strengthened and is estimated to have a lifespan of 10 years. It was moulded off an actual technical drawing of the current bottle with the aim of making it look as close to the real thing as possible.
*The Willowton Group is a family owned business that manufactures Sunfoil Triple Refined Pure Sunflower cooking oil as well as other brands such as Sunshine D, D'lite and Nuvolite.