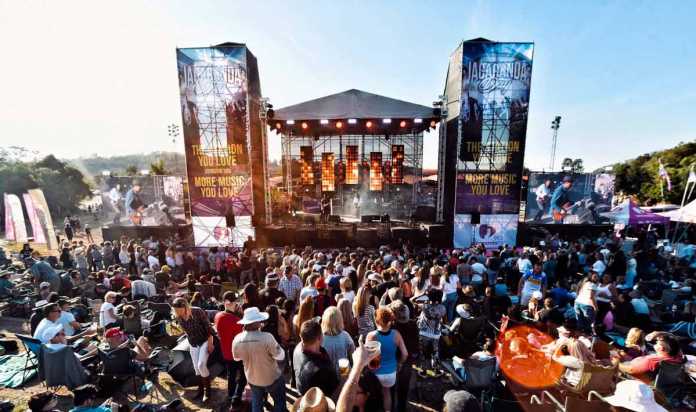 Jacaranda FM brings you the hottest ticket in town with Jacaranda Day 2018, bigger and better than ever, featuring ten of South Africa's best live music acts, taking place on 2 June 2018 at the Monument Amphitheatre in Pretoria.
With the seventh annual Jacaranda Day, the station that plays more music you love, presents a day of family fun in the sun, jam-packed with all the artists you love, a stellar line-up that includes MiCasa, Freshlyground, Jo Black, Bobby van Jaarsveld, Refentse, Martin Bester, The Parlotones, Juanita du Plessis, Brendan Peyper and DJ Jazzy D.   

This star-studded line-up will be joined on stage by the super popular Jacaranda FM presenters, with Jacaranda FM broadcasting live from the event for the entire day.
Jacaranda FM's General Manager, Kevin Fine, says: "Jacaranda Day is a firm crowd favourite festival of music. We're expecting to draw a capacity crowd from all over Gauteng and neighbouring provinces. It's a massive music explosion, for the entire family, with all the hits you love to sing along to."
Jacaranda Day 2018 kicks off at 10:00am and continues until 19:00pm. Gates open at 9:00am.
Tickets are priced at R165 per adult and R85 for kids under 12 and pensioners, available from www.jacarandafm.com. Parking is also available at R60 per vehicle. 
Important to note: Jacaranda Day 2018 will be a cashless event. You will be able to use a credit or debit card as well as make use of the cashless system. If you arrive at the event with cash or don't want to use your own bank card, you can easily convert this cash onto an event cashless card at the event loading station, conveniently situated just after the entrance to the event. | There will be ample food and drink vendors on the day. | The will be a full Kids Zone. |Random security searches will be performed at the gate to ensure safety.
Recommended: Cushions to sit on, sunscreen.
Allowed: Picnic baskets, water, food, refreshments, umbrellas, blankets, camping chairs.
Not allowed: Alcohol (will be available for purchase), pets, braais, cans, glass, drugs or illegal substances, hubbly bubbly, fireworks, weapons, cooler boxes (as advised by the Fire Department and SAPS).