In your face advertising
Needing no outwardly introduction, if you live in South Africa you would more than likely have seen ADreach Street Pole Ads on over 55,000 poles in every major city. Their offering seems to extend well beyond the average printed street pole ad as ADreach are reported to continuously strive to innovate new ways of bringing advertising to life. It is because of this that ADreach consider themselves the experts in Street Pole Ads. With ADreach's vast reach it is obvious that they deliver repetitive, in your face exposure.
Highest Recall in Out of Home
Offering high exposure and cost effective brand advertising for your campaign with AMPS substantiating that they have the highest recall of all Out of Home advertising platforms. This may help in ensuring more people will remember your Street Pole Ad's. Not only are they great exposure but they can be considered to also form a campaign extension, forming a conduit between other marketing activity and consumer experiences. It is known as similar to having a sales team permanently on the ground driving people towards your products.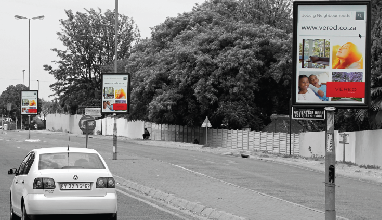 Street pole Ad's have been commented to allow your brand to own the windscreen space of thousands of South African consumers. Which can be considered as a 24 hour a day exposure, where and when it matters.
According to ADreach, Street Pole ad's get graded according to the following criteria:
• LSM
• Traffic congestion
• Clutter (presence of other advertising material)
• Windscreen space
• Premium (rates favourably on all four elements)
• Impact (rates favourably on any three elements)
• Strategic (rates favourably on any two elements)
They can also be situated in specific locations reaching consumers coming into or leaving a market area.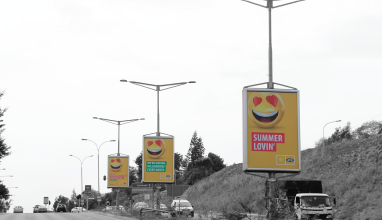 Over and above the norm of the printed street pole ad. ADreach also include boards like Supalites in their offer, which is an illuminated 8m2 board, located solely on road islands and are approximately 3m above the ground which is said to ensure high visibility impact and considered to light up your brand at night, so to all appearances you are not to be missed.
Also on offer are a back to back 4m2 strategically placed space where your brand would be actively promoted and highly visible to passing motorists.
Another effective feature are Die cuts that are an innovative and attention grabbing way to get creative with brands by adding a 3D element to the space, which is also an exceptional method of producing results. According to ADreach, the Die cuts at this stage are only available in Johannesburg.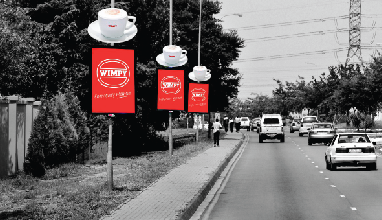 For more information please contact ADreach on 0861 222 123 alternatively email them info@adreach.co.za or visit their website www.adreach.co.za