TRACKING YOUR MARKETING INVESTMENT
Owning 63 billboard trailers countrywide and exclusive advertising rights with 42 Kwa-Zulu/Natal-based bus companies, entrepreneur and 'Billboards on the Move' owner Dillin Gramani has the lion's share of this market.
Keeping tabs
The company has installed tracking devices on each of its trailers so clients can keep tabs on their advertising investments. Using the internet, advertisers can track the exact location of their mobile billboard in real time. The system gives clients virtual access to their investment's location.
Recognising technology as a management tool only, Dillin is adamant that none of his trailers ever left un-manned. "Aside from un-manned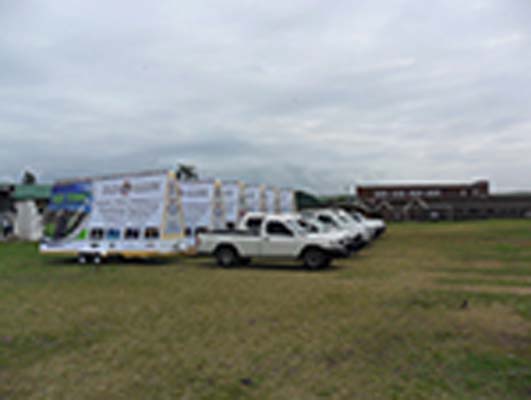 vehicles and trailers being in contravention of most municipal by-laws," he says, "from a security point of view for both our medium and our clients' branding our drivers remain with the trailer at all times."
Trailers in action
An advantage for mobile trailers, when compared to static billboards located on prime sites, is availability. "New advertisers often have difficulty in booking prime billboard sites as they don't have enough lead time and it's expensive," Dillin is quick to point out. "Our offering helps them overcome these hurdles."
Production turn-around, according to Dillin, from receipt of material to 'ready-to-tow' is between six and 12-hours.
Targeting commuters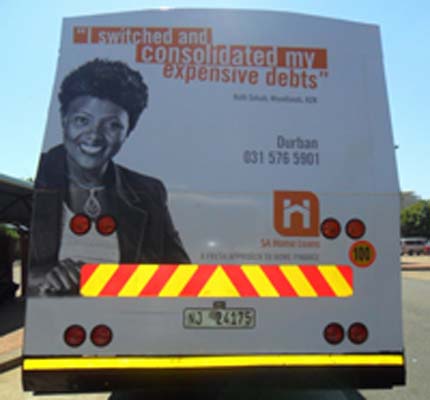 Bus branding, according to Dillin, offers good rates when compared to other advertising mediums. "Most bus advertising is long-term and centred around brand awareness," he says.
Billboards on the Move partners only with bus companies which have good quality management systems in place. It is at this point he reiterates how important their clients' image is to his business. "We will not outsource our moving advertisements to any company whose product or equipment appearance may be detrimental to our clients' images."
Billboards on the Move offers three packages for bus advertisers – full back; full wrap; and mega-bus. The full back is self-explanatory: advertisements cover the rear of the bus. A full wrap covers both sides of the bus and includes a contra vision on the side windows, while mega-bus includes both sides of the bus and the rear but excludes contra vision.
Product activation
The third in its suite of offerings is product activation in the FMCG market, managed by the company's drivers.
"Our drivers are not 'simply drivers'. They are responsible managers in their own right." Dillin says that when out on the road for a product activation all responsibility and accountability rests with the drivers. "We have a client brief and we provide the stage which has space for advertising backdrops, portable power and sound equipment."
Added service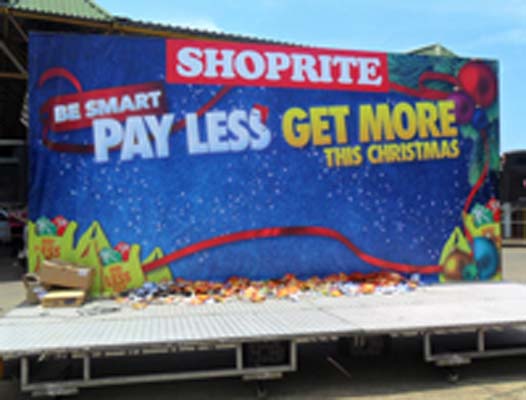 Not content in being only a provider of mobile advertising medium, Dillin offers a free service to clients from concept creation, if needed, through to design and layout. "We have partnered with African Mediums, a design studio, to facilitate this," he says. "We offer the service to clients who don't have the privilege of a design studio or are limited in their resources for whatever reason."
The company has branches in Bloemfontein, Cape Town, East London, Johannesburg, Kimberly, KwaZulu/Natal, Port Elizabeth and Pretoria.