More than 'just' specialist technology
Implementing solutions in professional Audio Visual, entertainment technologies and related areas, integration is the name of the game. This, according to System Solutions General Manager Roger Feldman.The company imports and distributes entertainment technologies across the board from audio systems to audio visual displays, cinema equipment and digital signage.
"In our business two key words accurately describe the solution we offer our clients– control'and'integration'," says Roger. Control is the common platform used enabling all equipment to communicate with necessary components, and integration of this equipment is our forte."
Core business
System Solutions is a technical supplier and systems integrator to the pro AV, cinema and live event industries. These services includestadium installations, cinema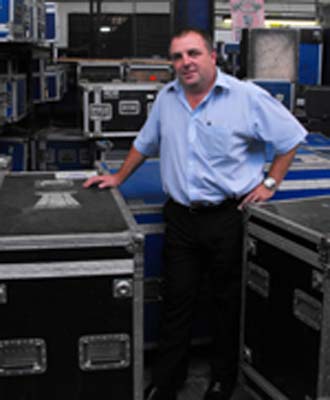 upgrades, theme park installations and auditorium, hotel and conference centre systems.
The company works with large outdoor advertising companies, specifically for permanent LED displays. Most outdoor mediums form part of the company's long-term strategy.
Services
System Solution's service offering includes design, consultation, supply, installation and project management.
"There is a huge swing towards outdoor electronic media," says Roger. One of our prerogatives is to ensure we are at the forefront of development in this industry." System Solutions is aligned with international LED display manufacturers to supply a full range of LED display products. These vary from high resolution (3mm or 4mm LED screen) for high resolution indoor applications. For outdoor screening, an increase in size to mesh-type products with approximately 20mm pixel resolution, among a number of other innovative products, is available.
The company has supplied about 1 000m² of outdoor LED displays to date.
Current projects
SkyRoll, developed by Lighthouse Technologies using its VideoBlades system is in SA. It can be deployed by rolling up or down from its rotating structure and the modular format allows for the seamless formation of large-scale screens. SkyRoll deploys down from overhead and is available in 4m, 6m and 8m widths.
It is with fixed installations in mind that Roger says his company would like to align itself with like-minded agencies that recognise the value of LED display as a medium. "Digital signage," he says, "is becoming a preferred solution in reaching desired target markets. We have a number of digital signage solutions which can be tailor-made to suit clients' needs." System Solutions is able to, among others, deploy content on a local area network (LAN) and link numerous sites over a wide area network (WAN) transmitting content using various technologies including satellite. These types of systems are becoming popular in shopping and conference centres.
CASE STUDIES
Large scale digital signage systems
FNB Stadium, Johannesburg
Soccer City was a R39-million contract to supply and install a High Definition IPTV(Internet Protocol television), digital signage video distribution system as well as two large format, high resolution outdoor LED screens at FNB Stadium (Soccer City) for the 2010 FIFA World Cup.
Installations in the stadium included two 86m² Lighthouse R16i/o-II screens comprising of 224 lightweight LED panels fed by a Vista Spyder video control system running in conjunction with Christie Digital's Vista Universal Routing Switcher. The control system was designed for maximum flexibility.
An AV Stumpfl ISEO was the main control platform pulling all installation elements into one master control system. This has the ability to operate and communicate with all other systems, devices and applications as well as monitoring devices. ISEO also controls the video mixing and switching and all playback devices involved.System Solutions provided a multi channel high definition and standard definition IPTV distribution system comprising high definition (HD) hardware encoders, DVB Gateways at the head end toconvert live TV to IP for streamingand HD receivers and display screens to the back of house, VIP and hospitality suites.
***
Moses Mabhida Stadium KwaZulu Natal
The US$2.6mcontract required HD IPTV, digital signage video distribution system and one large format, high resolution outdoor LED screen. The control architecture model used was similar to that implemented at Soccer City, except the new Christie Spyder X20 was also deployed.
The input configuration comprised four feeds from the AV Stumpfl Wings Platinum 4 media server; four HD SDI feeds for the outside broadcast and pitch feeds; and two Blu-ray player inputs. On the output stage, the Spyder X20 sent an XGA signal over fibre to the Lighthouse big screen and provided two RF Modulator feeds for the private suites, two HD IPTV Encoders, an operators monitor and a source multiview.
***
Gabon Stadia
The company was commissioned to design, supply and construct two large format outdoor LED screens and a control system for the Amitie stadium in Libreville and another in Port Gentil. Libreville hosted the 28thCAF Orange Africa Cup of Nations in January 2012.
An LED screen solution (8.192m wide by 4.606m high) with integrated control for the Amitie stadium was designed and an identical screen to the Stade Pierre Claver Divpungui stadium in Port Gentil was installed. A tailored scoreboard and master control system was implemented.
The LED display screens were made up of P16 panels using Cree LED chips. The control system consisted of an FSR Compass CP 200 presentation switch with preview and program outputs. The unit managed all video playback equipment as well as multiple live broadcast camera feeds which were provided by the outside broadcast unit. There was an Indie-400 HD unit for the LED screen image scaling.
Cinema as a medium
"Part of our long-term strategy," says Roger, "is to develop a professional cinema line." This strategy was largely driven by requirements in Mauritius and Reunion Island when the company was awarded a US$400 000 contract by Reunion-based Cineco." Another of the company's long-term strategies is penetrating Africa and the Indian Ocean Islands.
The audio equipment component installed in the new cinema complex at Bagatelle Mall in Moka weighed approximately six tons. It included specialised cinema loudspeakers, amplifiers, digital signal processors and monitoring systems.The cinema complex was equipped with a high-enddigital cinema content delivery and management system. "This enabled simultaneous broadcast streams to multiple screens from a single cinema server," says Roger. "It allows for last minute changes or content additions, including 3D playback."
Digital Cinema Projectors from Christie were installed in all six projection rooms with two additional Christie Legacy analogue projectors to facilitate titles presented in this format. Systems Solutions provided fully automated cinema dimming, lighting and control systems in all theatres.
The company has an order to convert seven cinemas in Reunion Island and another independent cinema in Mauritius.
"Our foray into the cinema market," says Roger, "has been extremely successful. The brands we've associated with in this field are: Christie Projectors; Dolby Sound Processes; Doremi Content Servers; QSC Surround Sound Audio; and Helvar Dimmers & Dimming Control."
New product offerings
Special effects for building projections are available through System Solutions. "This is currently a successful European trend and becoming very popular in outdoor advertising and promotions," Roger says. "It is simply advertising on the outside of a building using projected images. We have done several successful tests and staged one live event using building projection."
It is from content creation that the phrase 'Designing for Digital' comes into play. "The campaign will only be as effective as the content it delivers. Content must be specific for a type of medium." Roger says they work with content providers and advise on content suitability for various mediums.
*Further information on System Solutions from Roger Feldmann on tel: 011 216 3077 or roger@systemsolutions.co.za.