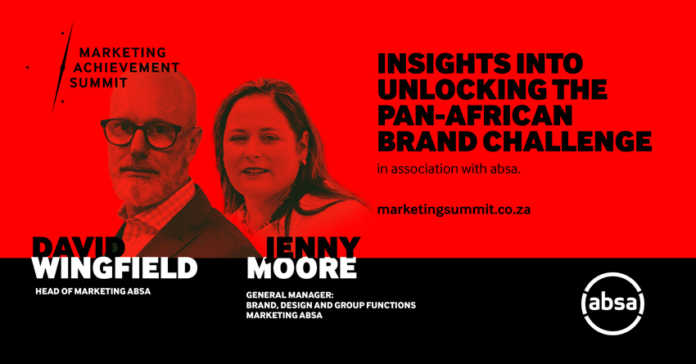 Absa will share marketing insights into what it takes to build a single brand across the African continent at the annual Marketing Achievement Awards and Summit at Sun City Resort in the North-West Province.
The event, on June 27, is endorsed by the Marketing Association of South Africa.
David Wingfield, Managing Executive: Group Marketing and Brand and Jenny Moore, General Manager: Brand, Design and Group Functions Marketing at Absa, will share some of their key learnings in unlocking the Pan-African brand challenge.
Barclays Africa Group announced in March 2018 that the company will be renamed Absa Group Limited and that it intends to operate as Absa across its operations in Africa by 2020. 
Free to pursue its own path as a standalone company, the group set out a new corporate strategy, resulting in a new business purpose statement which positioned the bank as enablers, helping individuals, businesses and society to 'bring their possibility to life'.
It also resulted in the creation of a refreshed brand as an expression of the bank's new promise and identity. The brand refresh opened a new chapter in Absa's long legacy of serving African citizens for more than 100 years and gave the bank the opportunity shape their own destiny as a proudly African bank with global scalability.
During the brand refresh, Absa had to take stock of whether it should retain a single brand across the continent, and what that brand should be. The brand team also had to contemplate whether the Absa brand would be strong enough to stretch across 12 African countries.
In designing the banking group's refreshed brand proposition and identity and launching it to the local market, the Absa team understood that trust and inspiration go hand-in-hand and broke a few of the traditional conventions in the design manual.
The refreshed brand was unveiled in South Africa in July last year and the rebranding of the group's Barclays-branded subsidiary companies in countries outside of South Africa as well as most other subsidiaries will commence later this year.
Whereas Absa previously represented mainly a South African bank, the new brand is fit for a forward-looking African bank in the digital age, and represents a group of banks across multiple countries in Africa.
The inside story of Absa's complete refresh across African markets will be shared at the Marketing Achievement Awards.
Guests will be invited to join the debate around future-proof marketing as they celebrate, learn and connect. For enquiries about the event, please contact 011 083 7842, info@marketingawards.co.za or visit www.marketingsummit.co.za.
For more information on Absa and its initiatives, visit www.absa.africa
Follow the conversation on:
---
Full links:
Marketing Achievement Awards:
https://www.marketingawards.co.za/
Marketing Achievement Summit:
https://marketingsummit.co.za/
Reservations and programme: http://www.cvent.com/d/s6qw1g
---
About the Marketing Achievement Awards
The South African Marketing Achievement Awards celebrate excellence in the science and art of marketing. The awards recognise and reward successful marketing initiatives and thought leadership in the South African marketing industry.
Issued by Flow Communications on behalf of the Marketing Achievement Awards. For more information or to arrange an interview, please contact Daya Coetzee at daya@flowsa.com or on +27 (0)11 440 4841.