Keep your Corporate Identity High Class, Cost Effective & Eco Friendly!
Papercor are the proud distributors of GalerieArt which is believed to be a cost-effective solution to your projects where high quality is essential, while at the same time boasting your company's environmental responsibility. GalerieArt's outstanding brightness, smoothness and whiteness help to create maximum contrast between the paper surface and printed ink gloss. A long-standing favourite in Europe and South Africa due to its renowned fidelity, excellent folding ability, and run ability.
Why you should use it?
GalerieArt is higher quality paper uniquely engineered to achieve a high brightness, a crisp clean blue white shade and exceptionally smooth surface—that means razor-sharp imagery and colours that pop. Delivering a superior quality feel versus any competitive grade at the same basis weight through caliper and stiffness. Its sheets are derived from Post-Consumer Waste, and 100% of the electricity used to manufacture GalerieArt sheets is generated with Green-e® certified renewable energy. GalerieArt is also FSC and PEFC approved.
The manufacturers of GalerieArt say that, "Our range brings the creative alive, with images that leap off the page, vivid colours and exquisite details. There is a choice of different surfaces, thicknesses and weights within our gloss, silk and matt coated collections, together with a natural uncoated option. The range adds a rich quality to print, which you can feel as well as see. The GalerieArt range is your canvas, helping you elevate your print to an art form".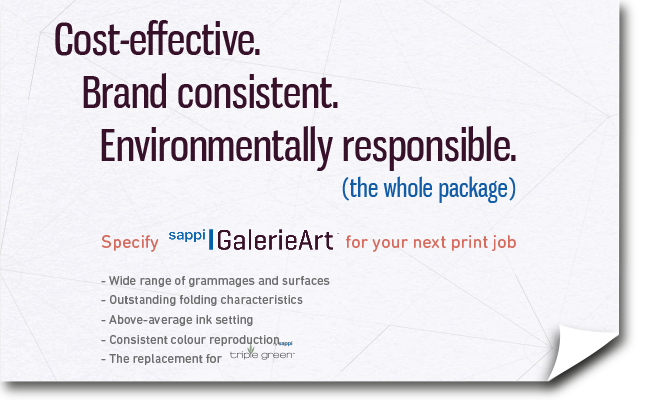 Foldability
The foldability of GalerieArt paper can be defined in the coating layers which are engineered to be more flexible rather than brittle, so the paper cracks less than all competitive grades. Thanks to a smoother, stronger surface coupled with better coating adhesion, there's greater stability for consistent fold performance sheet to sheet.
What variants do they come in?
As stated above there is a choice of different surfaces, thicknesses and weights within the gloss, silk and matt coated collections. These collections are listed below for more convenience;
GalerieArt Silk matt, Gloss and Natural (uncoated). Recommended for a cost-effective solution on projects where superior quality and environmental responsibility are essential.
GalerieArt Silk and Gloss range from 90gsm to 400gsm.
GalerieArt Natural White Tauro ranges from 90gsm to 300gs.
GalerieArt fine art for high quality and a superior surface.
It is said to be a responsible choice for your design masterpiece and will bring your designs to life.
For more information on GalerieArt please feel free to contact Jo-Ann Lithgow at Papercor on 011 613 7990 visit their website http://www.papercor.co.za/ or mail Jo-Ann on jo-ann@papercor.co.za.
Follow Papercor on: