South African Test Cricket Series sponsor, Sunfoil, teamed up with agency 34Sport to activate the Test Cricket experience for fans during the 2012/2013 Sunfoil Test Series in South Africa in a campaign called 'Now we're cooking!'.
Sponsorship rights
The Sunfoil brand has a four-year sponsorship deal as naming rights sponsor of the Test Cricket Series and Domestic Series in South Africa.
2013 focus
"While our focus has always been in development and domestic cricket," says Shoaib Moosa, Sales and Marketing Director Willowton Group, Sunfoil's holding company, "the mass market awareness has already delivered results. "Our priority for the 2012/13 Test Series is to establish a closer link between our product, and the sport."
The campaign
The campaign was developed to create synergy between the Sunfoil brand, food, fans and cricket.
For the New Year's Test between South Africa and New Zealand at Sahara Park, Newlands, in addition to crowd giveaways the Sunfoil Chill Zone was set up on the grass embankment.
Places and people
The Chill Zone comprised misters, bean bags and activities for children. The Sunfoil Sizzlers (promoters) were dressed in matching aprons, wide-brimmed sunflower hats and giant branded foam hands. The aim was to create a vibrant atmosphere and they were responsible for an impromptu game of cricket with children during lunch and rallying support for the Proteas.
The Sizzlers assisted in gaining exposure through social media and attracting TV officials broadcasting the game.
Fan participation
Fans were encouraged to participate in Sunfoil Saturday and interpreted the theme into their costumes. The focus was not limited to stadium fans only, but venders were included too. The latter were given product trials, t-shirts, aprons and stall branding.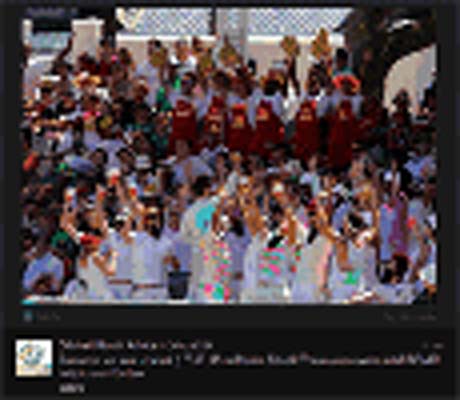 Social media
Social media was also used, and big screen animations and in-stadium announcements were used to complement this aspect.
By the end of the second test, less than a month from their first tweet, @sunfoilcricket amassed in excess of 1 500 followers.