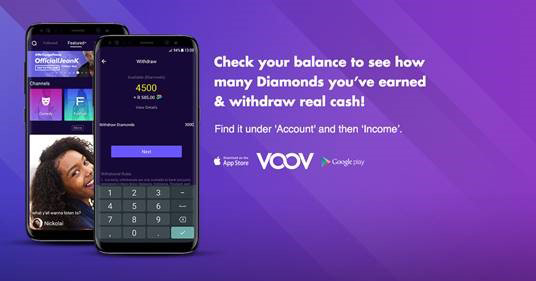 Social live streaming and Mini Video application VOOV has taken another step towards empowering content creators and rewarding the thousands of artists across its platform. Withdrawal, a new feature which has recently launched, allows users (also known as VOOVers) to earn real money with their content through receiving gifts given to them by their followers on the app. The 'Diamonds' gifted to them by their fans and followers, can be cashed out for real money.
Launched in July 2017, VOOV has attracted thousands of local users to its platform. VOOV's content creators are a fun and dynamic mix of celebrities and opinion leaders who create and share content that give followers access to their world as well as everyday VOOVers whose own live streams and Mini Videos compete for views, likes, comments and Gifts across a broad range of content such as gadgets and gaming, relationships, comedy, beauty and entertainment.
VOOVers are rewarded with Coins for viewing and engaging on the app. They can use the Coins to send Gifts to their favourite VOOVers during their live streams to show them love and get noticed. The gifts a VOOVer receives from followers are collected and converted into the receiving currency called 'Diamonds'. Once a VOOVer has received Gifts worth 3,000 Coins (converted into 3,000 Diamonds) they will be able to submit a Withdraw request through the app and convert the Diamonds into real money, which will be transferred to their bank account.
"We are extremely excited to offer a breakthrough technology that empowers anyone to earn real money by sharing their views, lives and art with all the other VOOVers out there. I think we could see the next superstar being born in real-time on VOOV," says Brett Loubser, CEO of Tencent Africa.
Recently launched #VOOVTV is another way for VOOVers to get noticed, build a larger audience and become a star. The 'world first' live from your phone broadcast to TV in partnership with MultiChoice on channel 196  is a dedicated channel on DStv and an extension of the VOOV app.
Start streaming, get Gifts and earn cash!  
To find out more, download the VOOV app for iOS and Android and visit www.VOOV.co.za.
Facebook: https://www.facebook.com/VOOVSouthAfrica/
Instagram: https://www.instagram.com/jooxsouthafrica/
Twitter: https://twitter.com/VOOV_SA