A water offering with a "TWIST".
Founder and owner of Aquacy Premium Prepared Water Steve Schourie feels that although there are a number of water companies out there on the market. Generally offering a similar product, that there is a demand for high quality water as well as service.
The Aquacy Brand.
Careful planning and the correct amount of research was invariably taken when considering taking such a massive step into the water environment. Steve at Aquacy feels that only high quality is produced by the correct machinery. "By importing our filters and machines for the purification process from Italy." We are assured of the best quality and highest performance when bottling our premium branded water. Naturally the maintenance of said machines is also of utmost importance," Says Steve. "We purchase our sterilized water bottles from a very reputable company." Which, according to Aquacy, of course adds value to the product. We have also added to the value by bringing our consumers the additional option of branding their own labels at a minimal cost to them."
Further research shows that the Aquacy brand additionally carries the SANS certificate of approval. Which means that it conforms to South Africa National Standards and is tested on a regular basis to ensure that Aquacy is purified to the point where the optimal balance of minerals and pH levels are obtained.
Room for improvement.
Aquacy aims to demonstrate an honest and reliable approach to their delivery on services. "Dealing with suppliers is not always as easy as one might think," adds Steve. "Some companies will only deliver on a large amount of orders and can only deliver on certain days. Aquacy offers delivery on lower quantity orders and aims to deliver, within reason of course, as the consumer needs it. Offering a more reliable service at a cost effective rate."
Custom Branding.
According to Aquacy, custom branded labels in the general industry, need to be mass produced. Which means to be able to get the maximum benefit of pricing. One needs to order a significant amount to experience the benefits. Aquacy premium water is able to provide the option of custom labels at a low rate, because of their own in-house printing facilities. Which it claims to significantly reduce the costs of designing and printing of labels for a singular order.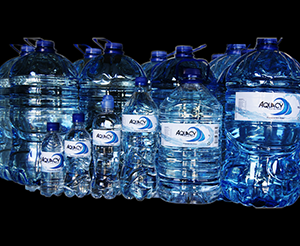 Although for deliveries there is a minimum order quantity of two cases. An order of one bottle is accommodated. "However, at the price per case, we doubt anyone would want to order just one bottle," laughs Steve.
Aquacy's offering includes: Company Branded water for events, wedding's, corporate events and functions, Birthday Parties, Restaurants and Guest Lodges.
They are available in 330ml, 500ml, 750ml, 1L, 1.5L, 5L and 10L bottles. Some of which are available in still and sparkling water.
For more information on Aquacy Premium Prepared water, please contact Steve on 082 778 8982 or steve@aquacy.co.za – alternatively check out their website on: http://www.aquacy.co.za/.